Rocket football game vs. Missouri to start at noon on national TV
---
The University of Toledo announced today that the Saturday, Sept. 6, football game vs. Missouri will kick off at noon in the Glass Bowl on national television. The game will be carried on either ABC, ESPN or ESPN2.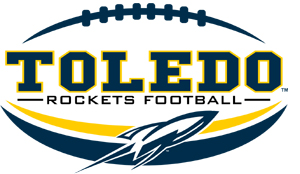 "We are very excited to be playing [a Southeastern Conference] team like Missouri in the Glass Bowl on national TV," said UT Head Coach Matt Campbell. "Missouri has a tremendous program and was one of the top teams in the country last year, so it will be an exciting challenge for us. I know the Glass Bowl will be packed and rocking on September 6."
Missouri, which finished the year ranked No. 5 in the nation in both major polls, is led by Gary Pinkel, former UT head coach. Pinkel coached at Toledo for 10 seasons from 1991 to 2000 and is in the school's Varsity 'T' Hall of Fame. Last season, Missouri went 12-2, won the East Division title of the Southeastern Conference, and defeated Oklahoma State in the Cotton Bowl. The Rockets and the Tigers faced off in Columbia last season, with Mizzou coming away with a 38-23 victory.
UT also announced other home-game kickoff times in conjunction with announcements from other Mid-American Conference schools. The home opener vs. New Hampshire Aug. 30 is slated for 7 p.m., while the UMass game Oct. 25 will kick at 2 p.m. as part of Homecoming festivities. The home finale vs. Bowling Green Nov. 19 previously had been announced to begin at 8 p.m. on either ESPN2 or ESPNU. The game times for Ball State (Sept. 20) and Central Michigan (Sept. 27) have not yet been determined.
Game times for some road contests were released today, as well. The Oct. 4 game at Western Michigan will kick at 7 p.m., and the non-conference matchup at Iowa State is set for 2:30 p.m. Central time (3:30 p.m. Eastern time). Road games at Cincinnati (Sept. 12 at 7 p.m.), Kent State (Nov. 4 at 8 p.m.) and Northern Illinois (Nov. 11 at 7 p.m. Central time) had been announced previously.
At least five Rocket games will be carried on national television. In addition to the Missouri game, the others are at Cincinnati (Sept. 12 on ESPNU), at Kent State (Nov. 4 on ESPN2/ESPNU), at Northern Illinois (Nov. 11 on ESPN2/ESPNU) and vs. Bowling Green (Nov. 19 in the Glass Bowl). The Nov. 28 game at Eastern Michigan also may be carried on ESPNU. The Iowa State game will be aired on Mediacom Cable, a statewide cable system only available in Iowa. Other games could be picked up later by national or regional TV outlets.
Campbell welcomes back a solid core of players for 2014. Of the 44 players in the Rockets' 2013 offensive and defensive two-deeps, only nine were seniors. Leading the way next year will be a top-notch offensive line that returns four of five starters, as well as a defense led by first-team All-MAC linebacker Junior Sylvestre and a kicking game paced by Lou Groza Award candidate Jeremiah Detmer.
Rocket football season ticket orders are available; call 419.530.GOLD (4653) for more information.