Game times announced for 2013 Rocket football home contests
---
Kickoff times for all home UT football games for the 2013 season have been set.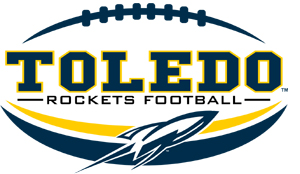 The home opener vs. Eastern Washington Saturday, Sept. 14, will kick off at 7 p.m., as will Saturday matchups vs. Navy Oct. 19 and Eastern Michigan Nov. 2.
The Homecoming game vs. Western Michigan Saturday, Oct. 5, is slated to begin at 3 p.m.
The Rockets will host two mid-week games in November: vs. Buffalo Tuesday, Nov. 12, at 7:30 p.m. (ESPNU or ESPN3) and vs. Northern Illinois Wednesday, Nov. 20, at 8 p.m. (ESPN2).
Game times for contests at Florida (Aug. 31), Missouri (Sept. 7), Bowling Green (Oct. 26) and Akron (Nov. 29) will be announced later.
Toledo is coming off a 9-4 season in 2012 (7-1 Mid-American Conference), its third straight winning campaign and third consecutive year appearing in a bowl game.
The Rockets return six All-MAC players, including senior wide receiver/returner Bernard Reedy (88 receptions, four TDs off returns) and senior running back David Fluellen (1,498 yards rushing).
Rocket football season ticket orders, including the Ultimate Fan Plan for $65, are available. Call 419.530.GOLD (4653) for more information.