National Science Foundation innovation program gives students entrepreneurial confidence
---
In March, The University of Toledo began an innovative program that provides students in engineering and science the opportunity to gain skills and knowledge required to commercialize technology.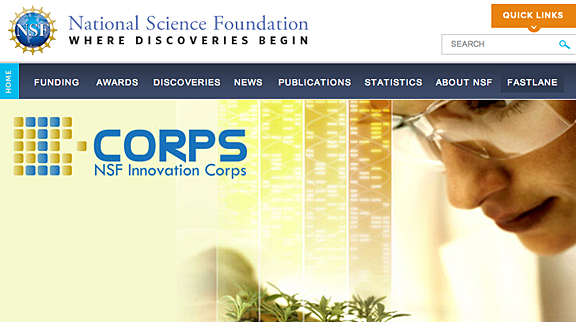 UT is one of the first four locations in the country selected by the National Science Foundation to be an Innovation Corps (I-Corps) site, an academic institution that provides resources, networking opportunities, and training to enable participants in transitioning their ideas or technology into the marketplace.
"One of the great things about going through the regional or site program is that if you're successful and interested in going further you can go to the national program and receive a $50,000 grant," said Jessica Sattler, UT director of economic engagement and business development programs.
The program gives participants the opportunity to communicate with customers much earlier in the product and business development process and enables them to determine whether or not their product fits within the intended market.
"It's training that you traditionally get at a business school," said Dr. Patricia Relue, UT professor of bioengineering. "The National Science Foundation has been trying to get more research that they fund out into the world. The whole basis for this I-Corps program is to take scientists and engineers and train them in basically the business mindset or the business lingo so that they can actually go out and talk to people that are in the industry."
During a two month period, eight teams consisting of a student, a faculty adviser and a community mentor took their products and business ideas and tested them out in their intended markets.
"The student is suppose to be the one driving the effort," Relue said. "The research adviser and the mentor are coaching from behind, but the student is the one who is suppose to take the lead."
Tim Walker, a mechanical engineering undergraduate student and program participant, worked on finding faster and more efficient treatment for a pulmonary embolism.
"This program helps push student ideas into the market and create change out in the real world," Walker said. "A lot of the time, research will get passed along from student to student without any contact with the market, and as students it's our responsibility to take our technology out into the world."
The structure of the program offers entrepreneurship training to students and teaches them to identify product opportunities that can emerge from academic research.
"There were two or three students that I could tell you right now that specifically said, 'This program helped me develop my interpersonal skills, I feel so much more confident.' And I remember starting right out of college and being terrified, so I just think that's a really cool, intended, maybe unintended, consequence," Sattler said.
For more information on National Science Foundation I-Corps, click here.