UT wraps up first #AskUT Twitter chat
---
June 29's #AskUT Twitter chat had a few interesting questions, and participants say it was a success.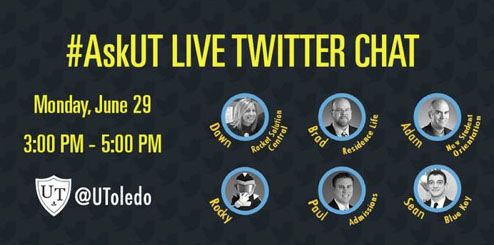 The chat, hosted by The University of Toledo's Office of University Communications, featured panelists from around campus: Adam Hintz, director of the Office of New Student Orientation Programs; Dawn Bellner, a direct service provider for Rocket Solution Central; Sean Mertz, president of Blue Key; Paul Smith, admissions coordinator for the Office of Undergraduate Admission; Matthew Perry, area coordinator for housing; Brad Menard, associate director for housing; and Rocky.
"While it was my first time participating in a live Twitter chat, I certainly hope it isn't my last," Hintz said. "I believe it was a great way to maximize efficiency when handling inquiries from students. I also think the chat provided the perfect combination of utility and humor, a balance most students can appreciate."
From 3 to 5 p.m., students could tweet @UToledo with the hashtag #AskUT and have their questions answered by the panel. A lot of students participated, asking everything from what the administration thought of Bowling Green State University to where they could park on campus.
"With a majority of our student population communicating online, we took the opportunity to address some of their questions," said Cam Norton, UT assistant director for social media. "With this chat, we were able to put the vast knowledge of our UT staffers one Tweet away, and having a dedicated time for the chat also allowed us to serve as a one-stop resource."
Though the chat is over, students can tweet UT any time if they have questions. There also are plans for another chat in the future, though a date has not been set yet.
To view some of the's tweets, click here.