Drive to Stock Teacher's Supply Pantry for Old Orchard Elementary School
---
A survey by the National Center for Education Statistics revealed 94 percent of public school teachers spend their own money on classroom materials — up to $500 a year for grade school teachers. To help address this issue, The University of Toledo is leading efforts to connect teachers at Old Orchard Elementary School with supplies for their students.
"We recognize the importance of supporting schools in our community," said UToledo President Sharon L. Gaber. "By collectively sharing the responsibility of equipping students with essential school supplies, we hope our collaboration with campus partners will contribute to students' success."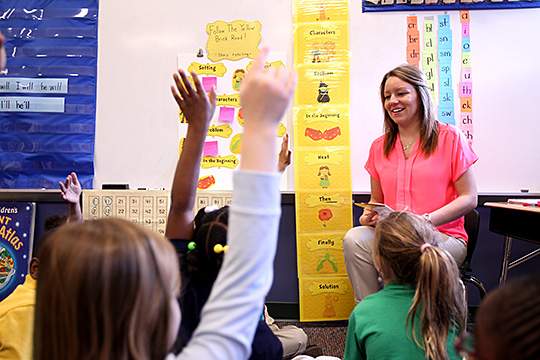 Officials at Toledo Public Schools identified the need to provide more supplies for area teachers throughout the year. Drawing inspiration from a model developed by Grace Church in Toledo, UToledo has organized a donation drive to stock a teacher's supply pantry.
While Old Orchard Elementary is the pilot school for the pantry project, the University hopes the initiative will grow to serve more schools.
"Helping provide school supplies to local young students reflects our commitment to fostering an environment where learning can thrive," said Dr. Raymond H. Witte, dean of the Judith Herb College of Education. "We are invested in the success of Toledo Public Schools by being both a resource for immediate, material needs and providing access to our community-based research and educational programs."
From Monday, July 8, through Friday, Sept. 26, donations will be accepted at several locations on Main Campus and Health Science Campus.
The supply pantry will be housed at the Carver Resource Center in Gillham Hall on UToledo's Main Campus and will open to teachers at Old Orchard Elementary School beginning in October.
The UToledo community is encouraged to contribute. Old Orchard Elementary has identified a list of the most needed items: pencils, colored pencils, dry-erase markers, Clorox wipes, Crayola markers, facial tissues, Crayola crayons, index cards, Ziploc bags and masking tape.
Visit the Teacher Supply Pantry website to find drop-off locations and learn more.
Questions? Contact teachersupplypantry@utoledo.edu.