Elite Prospect Soccer Camp slated for July 22-23 at Scott Park
---
Toledo will hold its annual Summer Elite Prospect Soccer Camp Monday and Tuesday, July 22-23, at Scott Park.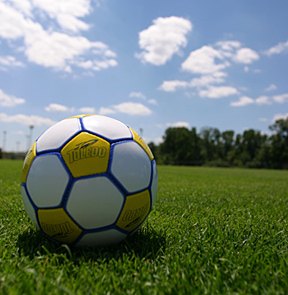 The two-day camp is focused on helping local players develop and is built on the elements of fun, technique, tactics and low player-to-coach ratio.
"Over the past few summers, we have had tremendous response to our elite prospect camp, and we expect another great two days of high-level training and play again this year," Toledo Head Women's Soccer Coach Brad Evans said.
The camp is intended for serious female soccer players in high school and driven to compete at the college level. Campers will gain an inside perspective into Evans' coaching style and UT soccer's championship environment.
Each camper will train in sessions led by Evans, interact with current UT soccer players, work with the UT strength and conditioning staff, participate in a recruiting question-and-answer session, and complete a UT ACL tear-prevention program.
In addition, campers will be housed in a freshman residence hall on campus.
Each camper is expected to bring her own ball, water bottle, shin guards, soccer and running shoes, proper soccer clothing, sunscreen, toiletries and bedding.
The cost of the two-day camp is $115. Each participant will receive a Toledo soccer shirt and shorts.
For questions or more information, contact Assistant Women's Soccer Coach Vicki Traven at 419.530.6251 or email soccer@utoledo.edu.