Author of psychiatric service dog book to hold free seminars at UT July 27, Aug. 10
---
Two trainings focusing on therapeutic aspects of the human-animal bond will bring Jane Miller, a clinical social worker and certified dog behavioral consultant, to The University of Toledo.
Miller, the author of
Healing Companions,
one of few books published on psychiatric service dogs in the country, will provide trainings Saturday, July 27, and Saturday, Aug. 10. Both events will be held from 11:30 a.m. to 3 p.m. in the Student Union Auditorium on Main Campus.
The July 27 session is titled "Animal-Assisted Therapy in Social Work Practice: An Overview," and the Aug. 10 session will be "Psychiatric Service Dogs and Emotional Support Pets in Social Work Practice."
"There is an increasing demand for psychiatric service dogs," said Dr. Janet Hoy, assistant professor in the UT Department of Criminal Justice and Social Work. "There are many more people requesting psychiatric service dogs than there are people knowledgeable to train them."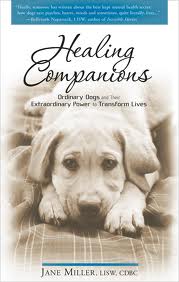 The trainings are open to all majors and backgrounds, and social workers can earn up to six continuing education credits toward the biennial 30-credit requirement for licensure renewal.
Miller's book promotes awareness of health benefits in the human-animal bond, and how psychiatric service dogs have helped people with post-traumatic stress disorder, bipolar disorder and mental illnesses that cause flashbacks.
"The dogs can be trained to recognize when a person is having a flashback," Hoy said. "They can be trained to interrupt that process and help ground the person — bring him or her back to the present moment — by putting a paw on them or nuzzling against the person experiencing a flashback."
Other examples of tasks psychiatric service dogs can be trained to do include but are not limited to doing an "all clear" check of an empty house; turning on lights in a dark home; bringing medications to a person; and providing a "buffer zone" while out in public for people who have a fear of being attacked from behind.
There is no cost to attend the seminars, which are being jointly sponsored by the UT Social Work Program and Student Social Work Organization.
Those interested in attending the trainings can register by sending an email to angela.campbell@utoledo.edu.