Rockets picked to win MAC West Division title
---
The University of Toledo football team was picked to win the Mid-American Conference's West Division in voting performed by 21 members of the league's media contingent.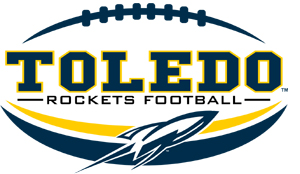 The annual preseason poll was released yesterday at the conference's 2014 football media day held at Ford Field in Detroit.
The Rockets received 11 first-place votes and a total of 114 points in the annual poll.
Defending MAC West Champion Northern Illinois (110 points) was picked second, with Ball State (82 points) chosen third.
Defending MAC Champion Bowling Green was picked to repeat atop the MAC East Division, and also was the choice to win the MAC Championship Game. UT received six votes to win the title game.
Head Coach Matt Campbell welcomes back a solid core of players for 2014. Of the 44 players in the Rockets' 2013 offensive and defensive two-deeps, only nine were seniors.
Leading the way this year will be a top-notch offensive line that returns four of five starters, as well as a defense led by first-team All-MAC linebacker Junior Sylvestre and a kicking game paced by Lou Groza Award candidate Jeremiah Detmer.
The Rockets open the season at home vs. New Hampshire Saturday, Aug. 30, then host SEC East Division Champion Missouri Saturday, Sept. 6.