Residence Life searches for orientation guide volunteers
August 4, 2011 |
UToday
By Feliza Casano
---
The Office of Residence Life is looking for faculty and staff volunteers to participate in the First-Year Orientation Guide program in August.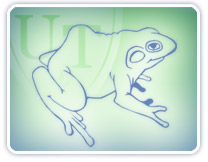 First-Year Resident Orientation Guides, which go by the acronym FROGs, help resident assistants and other resident hall staff members make the move-in process easier for students who will live in the halls.
FROGs help students move their things into their rooms and assist hall staff with tasks such as greeting, improving traffic flow around the halls, and answering any questions students have.
"It's a good way for faculty and staff to meet students outside the classroom and leave a good impression," said Mollie Zenz, academic coordinator in Residence Life.
Zenz said the office was hoping to increase the number of faculty and staff volunteers this year. There were about 40 volunteers last year and about 50 the year before.
Volunteers can sign up for any amount of time during move-in.
To learn more about the program or to sign up, contact Joseph DuBose in the Office of Residence Life at 419.530.4936 or joseph.dubose@rockets.utoledo.edu.