UTMC staff to celebrate second year as a best hospital
---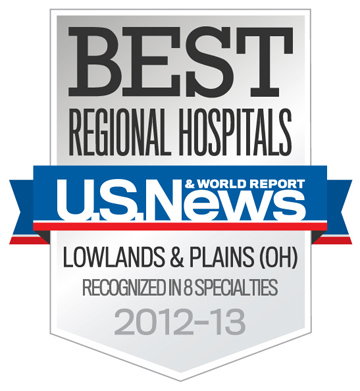 University of Toledo Medical Center employees, physicians and volunteers are invited to a celebration Friday, Aug. 17, in recognition of being nationally ranked as a U.S. News & World Report Best Hospital in eight different specialties.
The "All Hands on Deck" celebration is named after the new slogan that reflects UTMC's team approach to making patient satisfaction a top priority.
"All of the great things that are happening at the UT Medical Center are occurring because of the hard work, dedication and teamwork of everyone at the hospital," said Dr. Scott Scarborough, senior vice president and UTMC executive director. "We want to recognize what we have accomplished together and encourage everyone to continue striving for excellence."
Everyone who attends the event will receive a complimentary meal. Meals will be available for first shift from 11 a.m. to 2 p.m. and second shift from 4 to 6 p.m. Friday, Aug. 17, in front of the Mulford Library entrance, where local band KGB will perform. Third-shift employees will eat from 11 p.m. to 2 a.m. Thursday, Aug. 16, in the Four Seasons Bistro.
The event will honor the staff members who helped UTMC be recognized in eight different specialties by U.S. News & World Report. UTMC continued to be ranked in the same seven specialties as 2011-12 with Gastroenterology also ranked for the first time this year.
The ranked specialties are:
• Ear, Nose and Throat;
• Gastroenterology;
• Geriatrics;
• Kidney Disorders;
• Neurology and Neurosurgery;
• Orthopedics;
• Pulmonology; and
• Urology.
"The University of Toledo Medical Center is always striving to improve the care and experiences we provide, and these rankings are welcome reminders of the success we've had," said Dr. Jeffrey P. Gold, chancellor and executive vice president for biosciences and health affairs, and dean of the College of Medicine and Life Sciences. "Congratulations to all of the people at UTMC who make results like this possible. I hope that you will join me as we work toward continuous improvement in all we do."
Nearly 5,000 hospitals and 10,000 specialists submitted information to U.S. News for the 23rd annual 2012-13 report, and only 148 of the hospitals performed well enough to rank in even one of 16 different specialties.
Death rates, patient safety and hospital national reputation were a few of the factors considered when determining which hospitals were best. A hospital also had to treat a set amount of inpatients in each particular specialty in 2008, 2009 and 2010, and have enough specialists recommend the hospital for patients who needed a high level of expertise in those specialties.