Night Watch escort service an option for students
---
It's late. The sun's long since set, and UT is quiet. A lone student needs to reach a campus destination but feels uncomfortable making the trip solo.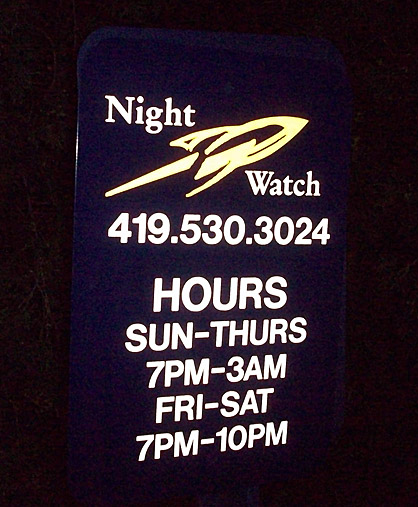 Not an issue. Night Watch — the UT escort service that's been providing safety and security for students for more than 20 years — is just a quick phone call away.
A program operated and manned by UT students with ongoing support and weekly input from The University of Toledo Police Department (UTPD), Night Watch utilizes two-student patrol teams that provide escorts to locations on Main, Health Science and Scott Park campuses. Off-campus destinations in the immediate area are covered as well, including Olde Towne University Square Apartments.
From any University phone, students requesting an escort can call 3024, or 419.530.3024 from an outside line. Calls go directly to the Night Watch office, where escort teams are dispatched.
"The teams are normally doing their regular patrols, providing extra eyes for safety and security," explained Lt. Charles Williams, UTPD officer. "When a call comes in, the Night Watch operator determines where the caller is located, where they want to go, and gives a time estimate on the arrival of a Night Watch car, which is easily identified by its flashing yellow beacon."
All Night Watch vehicles come with a mobile radio and one-button contact with UTPD. Escort teams carry portable radios when they're out of the vehicles.
Once the team arrives, they will either walk the student to the desired location or use the car if distance or inclement weather warrant.
Night Watch is available Sunday through Thursday from 7 p.m. to 3 a.m. The service also operates a substation in the hallway of Carlson Library Sunday through Thursday from 7 p.m. to midnight. On Friday and Saturday, the Night Watch office is open from 7 to 10 p.m.
A recent innovation is intended particularly for freshmen who park their cars in the gated and secured Lot 21 on the Scott Park Campus, Williams explained. To assist the influx of students who will be coming back to campus Sunday evenings after visiting family and friends, Night Watch crews not on runs will be parked at the curb cut near Lot 21, making them visible to students who park there, and available by calling 3024.
If students in Lot 21 don't have access to a phone, they may go to the Non-Academic Services Building, where they can swipe their Rocket Cards to get into the vestibule and use the phone located on the wall to call the Night Watch office for an escort. A sign above the phone will provide the number.
Night Watch signs are posted at the entrance to Lot 21 and at other strategic locations, Williams said.
"Night Watch is a wonderful peace-of-mind service for our students," said Dean of Students Tamika Dobbins. "And the Night Watch number — 419.530.3024 — is printed on the back of every student ID card, so it's always available."
Williams added, "It's reassuring for parents as well. My own daughters will be coming here as students within a few years, and it's comforting for me to know about Night Watch, whether I'm a part of it or not."