Updated information for Rocket fans driving to Glass Bowl on game day
---
The University of Toledo Athletic Department is announcing updated parking procedures for Rocket home football games this year due to the addition of Stadium Drive Live.
Stadium Drive Live, presented by iHeart Radio, is a free event that will open three hours prior to kickoff and give fans the chance to enjoy food, drinks and live music before UT's first five home contests.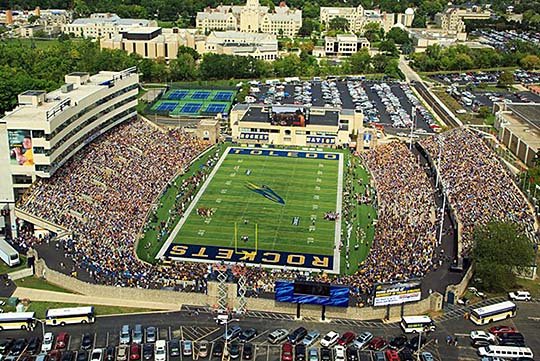 For games in which Stadium Drive Live is scheduled, Stadium Drive will be closed five hours prior to game time from the south entrance of parking lot 10 to the footbridge (from Bancroft Street).
With the street closures to accommodate Stadium Drive Live, fans with parking passes for lots 3, 4, 5, 6 and 10 will be instructed to enter their respective parking areas the following ways:
• For parking lots 3, 4, 5 and 6 (lot 6 is used for RVs and trailers and requires a lot 9 or 10 pass): Enter off Douglas Road and proceed to your lot through lot 4.
• For parking lot 10: Enter campus via East Rocket Drive at Douglas and proceed to Stadium Drive. Turn right at Stadium Drive and proceed to lot 10 on the left before the crosswalk near the Larimer Athletic Complex.
Overnight parking in any lot is not permitted prior to all home football games. Specifically, parking lots 6, 9 and 10 will close at 9 p.m. the night prior to the game. All remaining vehicles in these areas will need to be moved prior to 2 a.m. Beginning at 3 a.m., any cars remaining in these three lots will be towed at the owner's expense. These parking lots, as well as lots 3, 4 and 5, will open at 6 a.m. on game days. Fans intending to park in these lots will need to have the appropriate parking pass available to allow entry.
All parking will be based on availability; if a parking area is full, fans will be directed to the nearest available area.
Fans also should be aware that construction on Bancroft Street may cause delays on game day. If possible, fans should avoid Bancroft and enter campus via Douglas Road, Secor Road or Dorr Street.
For any further questions regarding parking at Toledo football home games, fans are encouraged to visit utrockets.com for the most up-to-date rules and policies.