Illustration on UT's Health Science Campus gets worldwide attention
---
A surgical illustration on The University of Toledo Health Science Campus is gaining some street cred.
The surgical wall project by UT medical illustrators Roy Schneider, Tonya Floyd-Bradstock and Joshua Klein is being featured on Street Anatomy, which is a website dedicated to showcasing how anatomy is visualized in art, design and pop culture.
The image, which is titled "Wall Repair" and is in Center for Creative Instruction Room 2130, has since been shared around the world on Facebook and Twitter with requests coming in for the UT medical illustrators to replicate the illustration for doctors' offices.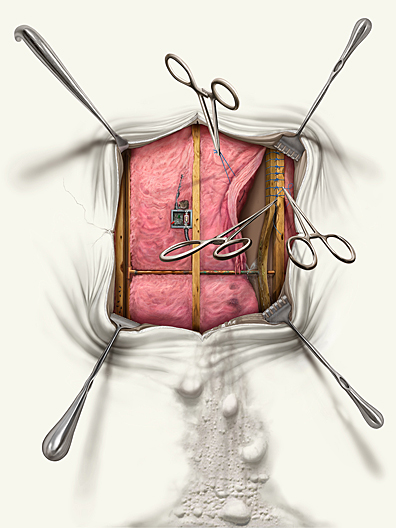 "We are really honored that our illustration is being seen by thousands because it is truly innovative and unique," Schneider said. "Our idea was to give an office wall 'some medical treatment' by peeling back the wall and exposing the health problems underneath. The problems represented inside of the wall are a play of symbolic metaphors representing diseases or pathologies that may require surgical intervention and repair. The mouse was just an added bit of fun."
The mural of a surgical wall repair stands 6 feet by 8 feet tall and was created in Trompe l'oeil technique, which is an art style that uses realistic imagery to create the optical illusion that the depicted objects exist in three dimensions, Schneider said.
The illustration was installed two years ago. In 2014, it won a first-place award from the Association of Medical Illustrators. The UT piece is in the running for the World Illustration Awards 2015.
The founder of Street Anatomy wrote a short story about UT's illustration.
"I've always had a vision of surgical illustration as street art. Slicing open a wall and retracting the brick back to reveal anatomy underneath would be so striking (or horrifying) to someone walking down the street," Vanessa Ruiz wrote. "This surgical wall project … comes close to that vision."