Former Toledo Women's Basketball Standout Signs Pro Contract in Israel
---
She's back! Former Toledo women's basketball great Naama Shafir is making a comeback. Shafir has signed a professional contract to play for Elitzur Ramla in the Israeli Female Basketball Premier League.
Shafir is one of nine former Rockets under Head Coach Tricia Cullop to play professionally overseas, joining Melissa Goodall (Italy and Spain), Andola Dortch (Belarus), Inma Zanoguera (Italy), Brenae Harris (Spain), Janice Monakana (Great Britain), Jay-Ann Bravo-Harriott (Spain and Great Britain), Mariella Santucci (Italy) and Sara Rokkanen (Spain) on that list.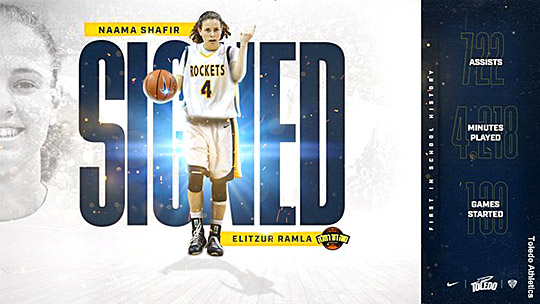 In addition, Kaayla McIntyre, Janelle Reed-Lewis, Dortch and Harris currently play for the Toledo Threat, which is part of the women's professional basketball organization.
Shafir, who retired in 2019 after getting married and giving birth to a daughter, is playing for Elitzur Ramla for the second time. During the 2017-18 season, she averaged 7.5 points, 3.1 rebounds and 4.7 assists in 30 games. Shafir shot 39.8% from the field, including 39.5% from three-point range, and 89.8% from the free-throw line, helping the team make it to the finals.
Most recently, Shafir played for Maccabi Ramat Hen in the D1 Israel National League during the 2018-19 campaign. She tallied 9.6 points, 4.5 boards, 4.7 helpers and 1.1 thefts in 24 contests. Shafir converted 49.3% from the floor, including 42.6% from beyond the arc, and 86.8% from the charity stripe, guiding the squad to the cup final and the league semifinals.
"I'm happy to hear Naama is resuming her professional career after taking a year off for the birth of her baby," Cullop said. "She was a joy to coach, and I'm sure her teammates are thrilled for her return."
One of the most decorated players in school history, Shafir was a four-time All-MAC selection. A 2018 Varsity 'T' Hall of Fame honoree, she sits first in program annals in career games played (139), minutes played (4,218) and assists (722), as well as ranking third in free throws made (538), fourth in steals (227), fifth in points (1,874), seventh in field goals made (601), tied for ninth in scoring average (13.5), and 10th in free-throw percentage (.773).
As a freshman, Shafir averaged 11.7 points and 4.5 assists, earning honorable mention All-Mid-American Conference recognition. A year later, she earned second-team all-league honors, contributing 14.3 points and 6.7 helpers, leading Toledo to the MAC Championship Game for the first time since 2001. As a junior, Shafir tallied 15.3 points and 5.1 assists, garnering first-team All-MAC accolades. The Rockets won the MAC regular-season championship that year and went on to capture the Postseason WNIT. She was named tourney MVP, scoring a career-high 40 points against USC in the championship game before a record crowd in Savage Arena.
Shafir played in only four games in 2011-12 due to a knee injury, but the Hoshaya, Israel, native came back in 2012-13 to propel the Midnight Blue and Gold to a 29-4 overall record, 15-1 in the league. Shafir once again collected first-team all-league honors, registering 12.8 points and 4.6 assists. She was runner-up for MAC Player of the Year and a regional finalist for the Women's Basketball Coaches Association Coaches All-America Team.
An excellent student in the classroom as well, Shafir earned Academic All-MAC honors a program-record three times.