UT launches initiative to enhance community engagement
---
As a recognized leader in community engagement, The University of Toledo is launching a new initiative to better document and promote how its many partnerships impact the community and find additional strategic opportunities for faculty, staff and students to collaborate with local partners.
As part of the University's recently approved strategic plan, UT set a goal to improve ties at the local and regional levels. In response, the Office of Government Relations has been tasked to lead the University's community engagement efforts.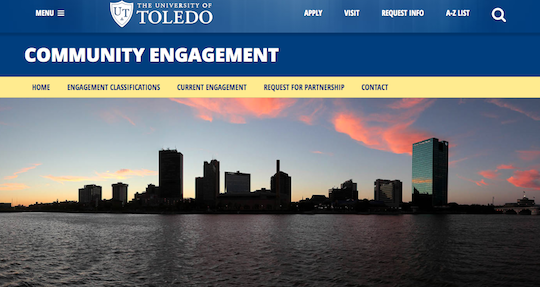 UT has been recognized as a leader in community engagement by the Carnegie Foundation for the Advancement of Teaching and the American Public & Land Grant Universities (APLU). In 2015, UT became one of the 240 U.S. colleges and universities to receive the Carnegie Foundation's Community Engagement Classification. UT received in 2013 the APLU's designation as an Innovation and Economic Prosperity University in recognition of its leadership in promoting regional economic development.
Margie Traband, director of strategic initiatives who will lead the community engagement initiative, managed the application process that led to UT receiving both of these prestigious recognitions. She also brings national understanding of community engagement to this initiative as a member of the executive committee of the APLU's Commission on Innovation, Competitiveness and Economic Prosperity.
"UT has long been committed to engaging our community in mutually beneficial partnerships to strengthen our region, and this initiative will help us count, connect and communicate those efforts," Traband said.
The initiative aims to measure UT's impact on the community through collecting and curating data, promoting strategic collaborations with appropriate UT contacts, and communicating how UT's faculty, staff and students impact the community. Those efforts will highlight how UT enhances the community and region through many diverse programs, services and activities that influence talent development, innovation and contribute to making this a vibrant area.
"UT's faculty, staff and students make impactful contributions to our community every day. I am excited about this initiative to highlight these contributions and recognize the good work that makes UT such a vital community partner," UT President Sharon L. Gaber said.
The new community engagement website, utoledo.edu/engagement, will serve as a resource for UT faculty, staff and students interested in becoming more engaged in their areas of interest and also for community members to seek collaborators. In addition, it provides opportunities to learn more about UT's current community activities.
For additional information about the community engagement initiative, call 419.530.6056 or email engagement@utoledo.edu.