Education Abroad Expo set for Sept. 11
September 8, 2017 |
UToday
By Cathy Zimmer
---
Explore your world by attending the Education Abroad Expo Monday, Sept. 11, from 11 a.m. to 2 p.m. in the Thompson Student Union Auditorium.
This event will give students, faculty and staff the chance to network and find opportunities to gain international study, research, internship, service learning, volunteering, teaching and work experiences, as well as potential scholarships.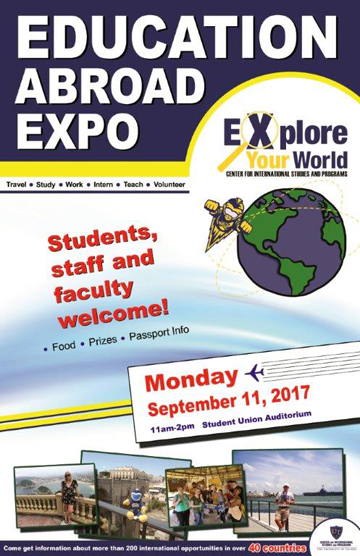 Education abroad representatives include UT faculty, staff and students from colleges, departments, offices and student organizations that provide or promote international opportunities. UT study abroad faculty-led programs and exchange programs will be represented, along with affiliate programs, including University Studies Abroad Consortium, International Studies Abroad, Semester at Sea and more. Additionally, programs such as National Student Exchange, Camp Adventure, Intercultural Exchange Club and others will be represented.
Education abroad professionals, students, faculty and staff alumni will share what they gained from these types of global experiences and answer questions.
Information about national study abroad scholarships and the Center for International Studies and Programs travel grants also will be provided.
Free food, prizes and passport incentives will be offered throughout the event.
UT faculty members are encouraged to attend and learn about the development of faculty-led programs.
For more information, contact the Center for International Studies and Programs at 419.530.5268.