Parking lot closures for football games announced
---
The first Rocket football game at home in the Glass Bowl will be against Eastern Washington Saturday, Sept. 14.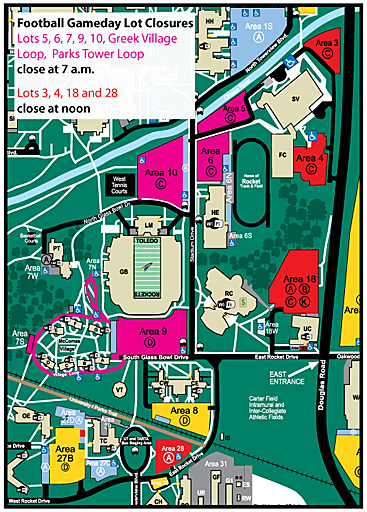 The University of Toledo Police Department has released it schedule of lot closures for that contest and all other home games for the 2013 season to ensure parking availability for the Toledo community attending the games.
Lots 5, 6, 7, 9, 10, including the Greek Village Loop and Parks Tower Loop, will close starting at 7 a.m. on game days. Vehicles that are parked in Lot 9 on game days will be towed.
Lots 3, 4, 18 and 28 will be closed beginning at noon.
While lot closures can be an inconvenience for faculty, staff and students, Rocket football games and other campus events are an important way the University interacts with the outside community, said Sherri Kaspar, police support services manager for UT Police.
The UT Police Department has a text message and email alert program that will remind those who regularly park in Lot 9 of towing on game days. To register, sign in or create a UT Alert account here, click on "groups" and subscribe to the UT Football Lot 9 tow alert group.
In conjunction with game lot closures listed, Lots 1N, 1S and Lot 2 will be closed starting at 6 a.m. Saturday, Oct. 5, for the Homecoming parade and football game.
The 2013 home football schedule is:
• Saturday, Sept. 14, Eastern Washington, 7 p.m.;
• Saturday, Oct. 5, Western Michigan (Homecoming), 3 p.m.;
• Saturday, Oct. 19, Navy, 7 p.m.;
• Saturday, Nov. 2, Eastern Michigan, 7 p.m.;
• Tuesday, Nov. 12, Buffalo, 7:30 p.m.; and
• Wednesday, Nov. 20, Northern Illinois, 8 p.m.