UT Family Shopping Day at Costco Sept. 17
September 15, 2017 |
UToday
By Staff
---
The University of Toledo Office of Student Involvement and Leadership is hosting a UT Family Shopping Day at Costco as part of Family Weekend.
All UT students, faculty, staff and alumni are invited to shop at Costco, 3405 W. Central Ave., Sunday, Sept. 17, from 10 a.m. to 6 p.m. A UT social gathering with light refreshments will take place in the store from 10 a.m. to 1 p.m.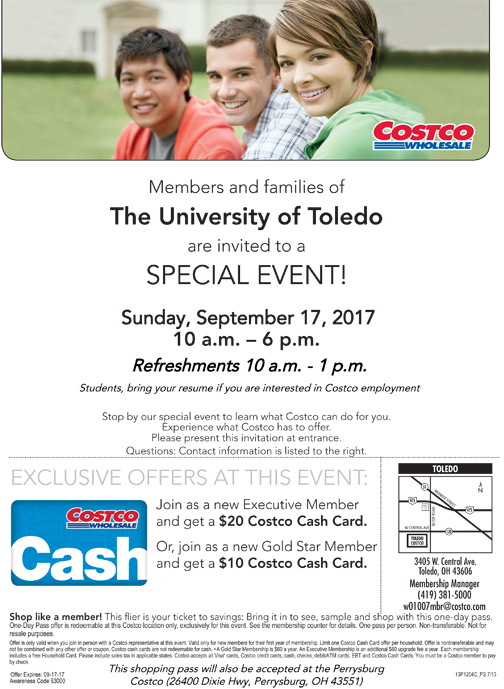 Shopping passes also will be accepted at the Perrysburg Costco, 26400 Dixie Highway.
The Office of Student Involvement and Leadership seeks to build community and is committed to providing students with opportunities for involvement that will enhance and complement their UT experience.
Donovan Nichols, assistant dean for student involvement and leadership, said, "We are always looking for inexpensive, collaborative programming for the UT family — students, faculty, staff and alumni."
During this event, no Costco membership will be needed to enter as long as you have a Costco UT Family Day Shopping Pass or UT ID.
"We are excited to host this great event for a second year as the first year was a major success. We truly enjoy our wonderful partnership with Costco and look forward to another Sunday fun day where the entire UT family can shop, socialize and enjoy some refreshments," Nichols said. 
"Our UT family will be able to shop for great items at low costs, purchase nice UT apparel, and enjoy a fun UT-spirited reception," Nichols said. "In addition, students are invited to drop off their resumés at Costco to potentially gain employment with a high-quality company. It's a win for everyone."
This event is part of the University's Family Weekend, Friday through Sunday, Sept. 15-17. More information about Family Weekend can be found at utoledo.edu/studentaffairs/osi/familyweekend.