Chinese Harmonies with a Taste of Hunan performance scheduled for Sept. 21
---
The campus community is invited to join the UT Confucius Institute to celebrate the Chinese Moon Festival Monday, Sept. 21, with a performance by Hunan Normal University Troupe from 5:30 to 7 p.m. in the Student Union Auditorium.
Hunan Normal University Troupe will visit eight Confucius Institutes in Michigan, Ohio and Tennessee. With the theme "Harmonious Chinese Art and Unique Hunan Style," these shows are part of the global performances at Confucius Institutes.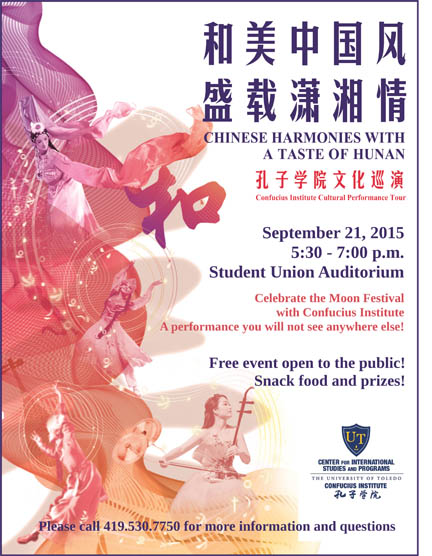 With harmony at the core, the troupe is to introduce such ideas in traditional Chinese culture as "balance and beneficence" and "union of man and nature."
Most of the performers are university students who are eager to learn about America and help promote China-U.S. friendships. The troupe members will tell stories of China through singing and dancing.
"This event is free and will feature a variety of performances you won't see anywhere else," said Xinren Yu, international programs coordinator in the Confucius Institute. "Chinese Harmonies with a Taste of Hunan is a performance troupe from Changsha, China. There also will be refreshments and prizes for attendees."
The Moon Festival is a popular harvest event celebrated by Chinese people. The festival is held on the 15th day of the eighth month in the Chinese calendar. It is called Mid-Autumn Festival or Moon Festival because of the celebration's association with the full moon on this night, as well as the traditions of moon worship and moon gazing.
The festival consists of three fundamental meanings that are closely tied to one another: gathering, such as family and friends coming together; thanksgiving, to give thanks for the harvest; and praying such as for babies, a spouse or other family members for a good future.
The Confucius Institute at The University of Toledo is committed to serving the region of northwest Ohio by providing education in Chinese language and culture; developing and enhancing China-related scholarly research/discovery, academic programs and educational/training programs that support business outreach/engagement; and offering opportunities for cultural exchanges between China and the United States.
The institute is part of the Center for International Studies and Programs, which is committed to the belief that effective cross-cultural interaction leads to global understanding and ultimately to a more rewarding human experience and to a better, more peaceful world.
Learn more about the Center for International Studies and Programs at utoledo.edu/cisp.