Diversity training sessions announced
September 17, 2018 |
UToday
By Anna Brogan-Knight
---
The Office of Diversity and Inclusion continues to offer diversity training for faculty and staff this semester.
The session takes a fresh look at the critical importance of diversity and inclusion, cultural competence, and strategies for integrating best practices at The University of Toledo.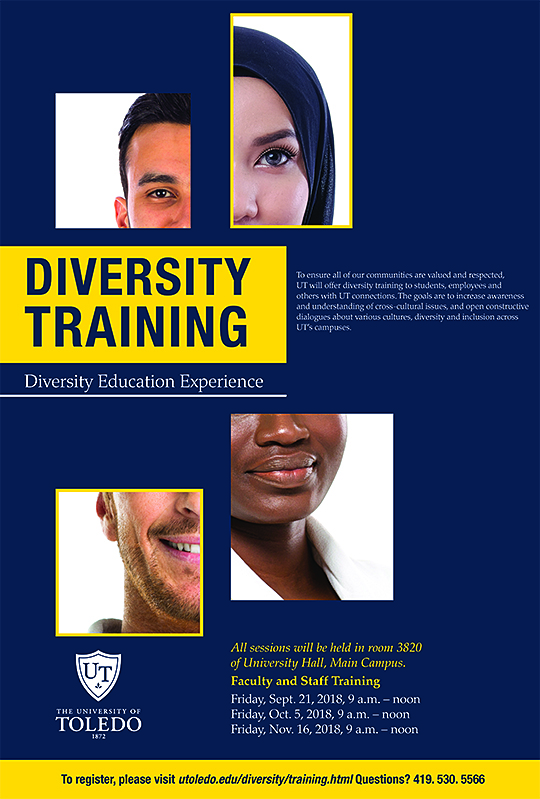 "This training provides a safe space to ask questions and learn more about pressing issues of diversity that impact our students and colleagues, and helps us learn how to make sure that we are all contributing to an inclusive atmosphere," said Malaika Bell, program manager and diversity trainer for the Diversity and Inclusion Office.
"The Campus Culture Climate Survey, which The University of Toledo conducts biannually, reports that 92 percent of participants feel accepted on campus," said Dr. Willie McKether, vice president for diversity and inclusion. "We are extremely proud of that statistic and are diligently working to provide trainings, programs and to support initiatives that promote diversity and inclusion and maintain the feeling of acceptance that so many reported."
In addition to diversity training, the Office of Diversity and Inclusion hosts speakers, works with student and alumni groups for retention and outreach activities, and partners with departments across campus to provide a high-quality, academic and experiential approach to meeting UT's diversity and inclusion goals.
Available dates for diversity training from 9 a.m. to noon are:
• Friday, Sept. 21;
• Friday, Oct. 5; and
• Friday, Nov. 16.
All sessions are held in University Hall Room 3820.
Training dates on Health Science Campus will be announced soon.
To schedule a training for departments, offices or divisions, contact the Office of Diversity and Inclusion at 419.530.5531 or visit utoledo.edu/diversity/training.html to register or for more information.