Psychopharmacology Update to focus on healing
---
"Mind, Body and Healing: Diagnostic and Therapeutic Challenges" is the title of the 31st annual Psychopharmacology Update, which will take place Friday, Sept. 27, at the Hotel at UT Medical Center.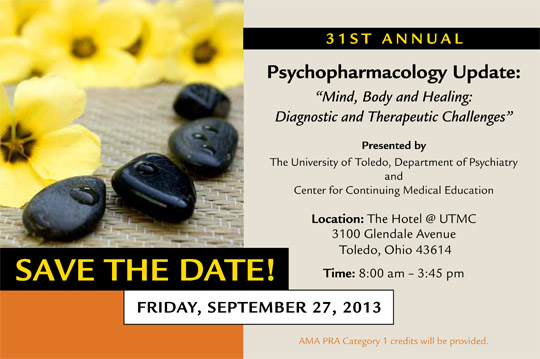 The event, which offers several categories of continuing medical education credit, will be held from 8 a.m. to 3:45 p.m.
It is designed for family physicians, psychiatrists, psychologists, nurses, nurse practitioners, physician assistants, pharmacists, social workers, counselors and other health-care professionals who care for mentally ill patients.
Topics to be covered will include:
• Adult implications of childhood maltreatment;
• Menopausal insomnia, weight gain and depression;
• The physical effects of intense emotions; and
• Psychophysiological therapies.
The cost of the program is $80; $60 for UT faculty and staff; and $25 for UT residents and students.
Reigster online at cme.utoledo.edu.
For more information, call the UT Center for Continuing Medical Education at 419.383.4237.