Batman, Catwoman to invade Glass Bowl on Superhero Night Saturday
---
The Glass Bowl will become Gotham City Saturday, Sept. 20, when The University of Toledo hosts Superhero Night featuring Batman and his nemesis, Catwoman.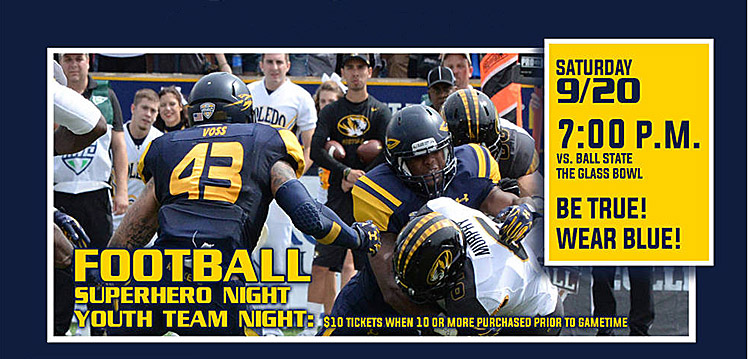 The Rockets will host Ball State in a key Mid-Amercian Conference West Division contest at 7 p.m.
Youths dressed in superhero costumes are invited to join Batman and Catwoman in the 6 p.m. pregame superhero parade. The first 100 kids to sign up at Fan Fest (located near Parking Area 10) will be allowed to participate in the parade.
Batman and Catwoman also will sign autographs and be available for photographs at the Tireman Photo Booth from 5:30 through halftime. The Tireman Photo Booth is located under the south concourse beneath the Press Tower.
Tickets are just $10 for teams and youth groups who purchase 10 or more tickets for both youth and adults members. This promotion is not available on game day. Tickets must be ordered by 5 p.m. Friday.
Youth groups/teams may purchase $10 tickets in one of three ways:
• Online at utrocketstix.com using customer login: TEAM\CYO and password TEAM.

• Phone: 419.530.GOLD (4653) or 419.530.2486.

• Purchase at the UT Athletic Ticket Office in Savage Arena.
Also, Rocket Kids Club members my receive a free youth ticket with each paying adult ticket for the Ball State game. Tickets must be purchased prior to game day (by 5 p.m. Friday). The first 100 Kids Club members to purchase a ticket receive a free Rocket Superhero cape.
For more information, contact Heather Lutz at heather.lutz@utoledo.edu or 419.530.2486 or Jonathan Findlay at jonathan.findlay@rockets.utoledo.edu or 419.530.2482.