Promote health, wellness at Night at the Rec Sept. 21
September 19, 2017 |
UToday
By Ashley Diel
---
Students are invited to increase their exposure to activities, services and resources connected to their health and well-being at the first Night at the Rec Thursday, Sept. 21.
The recreational center will close at 9 p.m. and reopen at 10 p.m. for students living on Main Campus.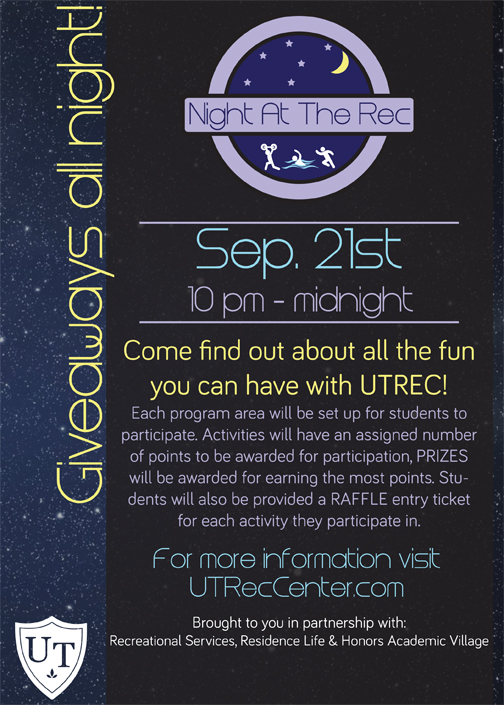 Students will have the chance to take part in all the center's services and activities, including basketball, swimming, the rock climbing wall, the high ropes course, and group fitness demonstration.
"The Office of Recreational Services had a desire to increase awareness of resources linked to health, wellness and well-being," said Matthew Perry, associate director for residence life. "This has turned into an exclusive opportunity for students living on campus to explore and be exposed to all services the Student Rec Center has to offer them."
Attendees also will have the opportunity to earn points by participating in a variety of stations to be put into drawings for raffle prizes, including gift cards, sports equipment and a Zumba workout package.
The residence hall with the highest percentage of students in attendance will win a grand prize.
"Students will engage with UT students, faculty, staff and relevant student clubs and organizations in a safe environment geared toward supporting health and wellness," Perry said.
Refreshments will be provided.
For more information, visit utreccenter.com.