Supreme Court of Ohio to hold session at College of Law in April
---
The Supreme Court of Ohio will hold session in The University of Toledo College of Law's McQuade Auditorium Wednesday, April 9, as part of its Off-Site Court Program.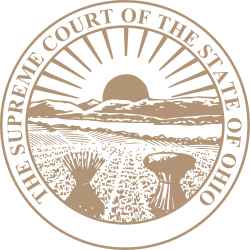 The Supreme Court last sat in Lucas County in 1987, the first year of the Off-Site Court Program, and has never appeared at The University of Toledo.
Justice Judith Ann Lanzinger, a 1977 alumna of the UT College of Law, is a Toledo resident and former trial and appellate judge in Lucas County.
"We are honored to have been selected for the Off-Site Court Program. This will be a wonderful opportunity for lawyers, students and other members of the public to observe the state's highest court in person," said Daniel J. Steinbock, dean of the College of Law. "It will also give alumna Justice Judith Lanzinger a chance to hear cases in the law school she attended."
The UT College of Law will host the court in conjunction with the Toledo Bar Association, the Ohio Sixth District Court of Appeals and the Lucas County Court of Common Pleas.
"I was delighted to accept the law school's invitation to hold court in Toledo, and my colleagues and I are looking forward to the visit," said Ohio Supreme Court Chief Justice Maureen O'Connor.
The Off-Site Court Program was founded in 1987 by the late Chief Justice Thomas J. Moyer and is designed to teach Ohioans about the state's judicial system. Twice each year, once in the spring and once in the fall, the Supreme Court relocates from Columbus to hold session in another city, selecting a different county each time.
Area high school students will be invited to attend, and volunteers from the Toledo Bar Association will brief students on the cases to be argued before the session.
Background information and a video illustrating the program, including footage from past off-site court sessions, is available on the court's website, supremecourt.ohio.gov.