Clothesline Project to Return to UToledo
---
Fear. Anger. Forgiveness. Resiliency. So many emotions are seen in the T-shirts created for the Clothesline Project.
The annual event will return to The University of Toledo Thursday, Sept. 26, from 11 a.m. to 2 p.m. on Centennial Mall. If it rains, the display will be moved inside the Thompson Student Union Trimble Lounge.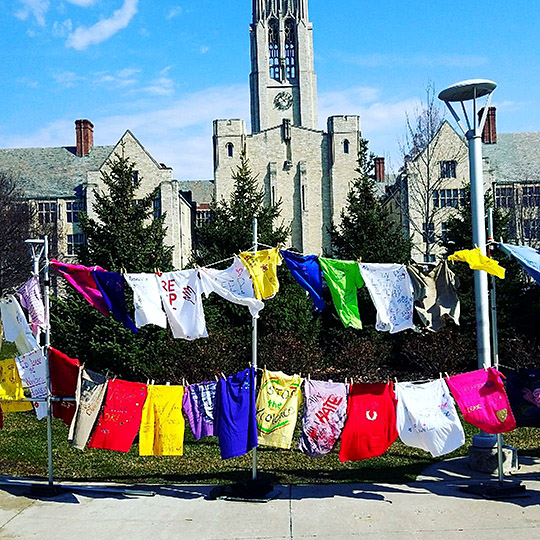 T-shirts created by victims of sexual violence or made in honor of someone who has experienced violence are hung on Main Campus every year by the UToledo Center for Student Advocacy and Wellness.
"The Clothesline Project is a powerful display of the impact that violence has on the lives of so many people. For survivors, making a T-shirt and sharing their message with the community can be very healing," Shahrazad Hamdah, sexual assault and domestic violence advocate in the Center for Student Advocacy and Wellness, said.
The T-shirt display coordinates a color to many types of abuse: white for those who died because of violence; yellow and beige for battered and assaulted women; red, pink and orange for survivors of rape and sexual assault; blue and green for survivors of incest and sexual abuse; purple for those who were attacked because of their sexual orientation; and black for women attacked for political reasons.
Students and employees who would like to make a shirt can stop by the center in Health and Human Services Building Room 3005 Monday and Tuesday, Sept. 23 and 24, from 10 a.m. to 2 p.m. All supplies will be provided.
For more information about the event, contact Hamdah at shahrazad.hamdah@utoledo.edu.