Business owners invited to registration event Sept. 25
---
If there's any question on how to get businesses registered with the state of Ohio, now's the time to get them answered.
The University of Toledo's Minority Business Assistance Center will host Secretary of State Representative Monique Cox-Moore at a small business registration workshop Friday, Sept. 25, at noon. The free, public event will be at the center's new office on the fourth floor of the Resource Library Computer Lab on Scott Park Campus.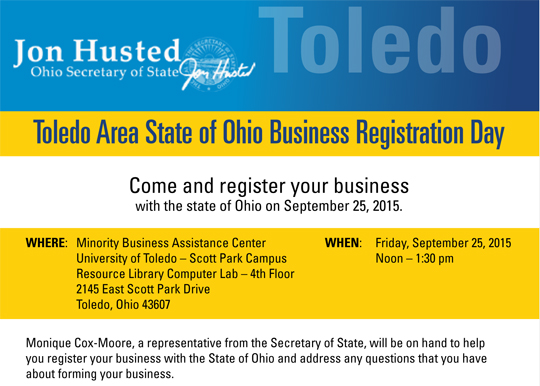 All businesses are required to register with the state of Ohio for tax, insurance, vendor's licenses and other similar purposes, explained Portia Ash, director of the Minority Business Assistance Center.
Having Cox-Moore available at the event will help expedite the process. She will start the event by giving a brief presentation on how the process works and then be on hand to talk businesses owners through the application and ensure they have all the correct forms.
"If all goes well, we hope to get several cycles worth of businesses registered," Ash said.
Additionally, the state of Ohio recently voted to lower the cost of the registration fee, which will take effect Thursday, Sept. 24 — the day before the event. The cost to register a Limited Liability Company, for example, will be $99 instead of the previous $125 fee.
"This is just one of many workshops that the Minority Business Assistance Center is putting on," Ash said. "Everyone is encouraged to look for other workshops on our website that could potentially help them."
For more information or to register for the event, visit nwombac.com or call 419.530.3344.