UT algae, health experts reassure residents on safety of drinking water
---
Water quality experts at The University of Toledo are working with city of Toledo leaders and water treatment plant operators to help keep the public drinking water supply safe.
Dr. Tom Bridgeman, UT algae researcher and professor of ecology, and Dr. David Kennedy, assistant professor in the UT Department of Medicine, participated in a news conference Thursday with Toledo Mayor Paula Hicks-Hudson.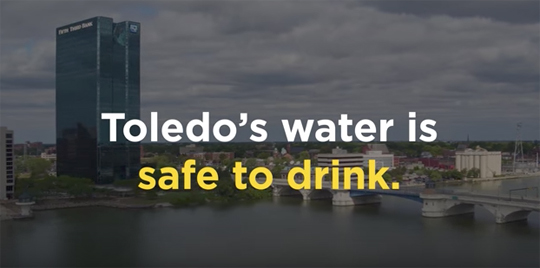 Watch the video here.
Despite the algal bloom visible in the Maumee River, Bridgeman said, "The Maumee River is over 10 miles away from where we get our drinking water. Our water intake is in Lake Erie. Right now, the water quality at the intake is very good. There is almost non-detect toxins at the intake. And the peak of toxins was over two weeks ago, almost three weeks ago. Toxin levels dropped steadily over the last two weeks."
"There is a disconnect between the harmful algae that we see and the toxins that the algae produce," Kennedy said. "Just because you have harmful algal blooms does not mean that they are producing toxin, that they have released toxin, that there is toxin."
Click to access the login or register cheese