Open enrollment for 2013 begins Oct. 1
October 1, 2012 |
UToday
By Kim Goodin
---
Open enrollment for 2013 health benefits will take place throughout this month.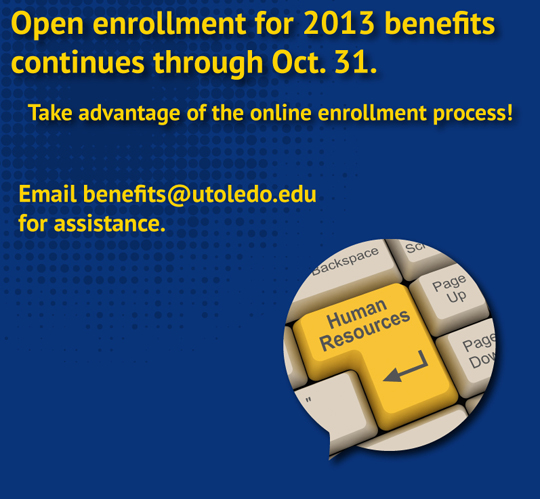 Following a procedure that was successful last year, enrollment will be conducted entirely online. Only required documentation, such as spousal/domestic partner health-care eligibility affidavits, birth certificates and marriage certificates, will be accepted.
"Our employees loved the convenience and quickness of online enrollment," said Denise Shordt, senior benefits adviser in Human Resources and Talent Development. "I had quite a few people say, 'It took less than two minutes for me to complete my enrollment!'"
As with last year, users will go to an open enrollment link on the myUT portal located on UT's internal website. A series of prompts will lead each employee through the process. Employees must have their user names and passwords activated before they can enter the portal.
Shordt encourages employees to review their current benefit information, whether changing selections or not.
"Some plans require updated information for spouses and older children to be submitted each year," Shordt explained. "One of the plans has a short procedure if an employee wants to contribute to a Health Savings Account or would like to continue to receive the employer contribution to the Health Savings Account."
Shordt said plans did not change significantly. A few of the differences from last year include:
• Deductibles and out-of-pocket maximums for plans offered through Medical Mutual of Ohio increased slightly due to Internal Revenue Service regulations.
• Maximum contributions allowed for Flexible Spending Accounts decreased due to national health-care reform regulations.
• AFSCME and PSA employees will receive 15 percent discounts on prescriptions written by UTMC prescribers when filled at UT pharmacies.
"In addition to the minor 2013 changes, we were notified last week by FrontPath that the emergency room physicians at Mercy St. Anne's Hospital are no longer contracted with the FrontPath network, effective Sept. 30 of this year," Shordt said. "Letters have been mailed to OBA/FrontPath members regarding this change. We encourage employees to utilize The University of Toledo Medical Center for emergency room services, rather than Mercy St. Anne's, to ensure they receive the negotiated network discount."
Details regarding each health-care plan, as well as support information, is available on the Human Resources and Talent Development website. Although benefit forums will not be held this year, an explanatory presentation has been recorded and is available on the open enrollment website.
Computers will be available for employee access in in Human Resources and Talent Development's offices on Health Science Campus (Facilities Support Building) and Main Campus (Transportation Center) Monday through Friday from 8:30 a.m. to 5 p.m.
Employees who require personal assistance with online enrollment are encouraged to email Human Resources and Talent Development at benefits@utoledo.edu.
Open enrollment ends at 5 p.m. Wednesday, Oct. 31. New benefits selections will be effective Jan. 1, 2013.