Employee reminder: Complete open enrollment in October
October 1, 2018 |
UToday
By Staff
---
All benefit-eligible employees are reminded to complete open enrollment, which runs from Monday, Oct. 1, through Wednesday, Oct. 31, with elections being effective Jan. 1. By completing open enrollment, you will ensure you have proper medical, pharmacy, dental and vision coverage for 2019.
"Once again this year, we tried to find opportunities to enhance what we offer our employees," said Wendy Davis, associate vice president and chief human resources officer. "We strive to ensure employees have appropriate coverage by offering several plan options and flexibility so they can choose what's best for their individual household."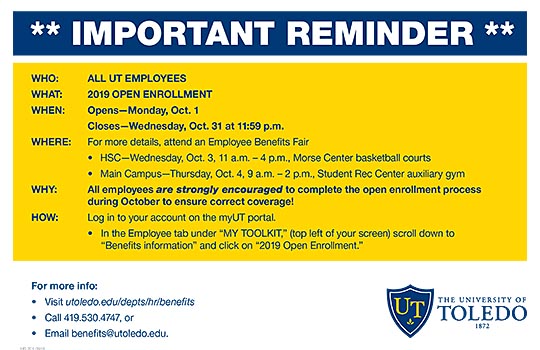 Among changes this year:
• The Blue Medical Plan will move from two tiers (single or family coverage) to three tier premium rates (single/single plus one/family); therefore, employees who have only one member to cover will have a lower premium.
• Health Savings Account contributions for the Blue Medical Plan also will move from two to three tiers, so employees may be able to contribute more in pre-tax dollars. (Participants must participate in the Healthy U program and complete the health risk assessment by Friday, Nov. 16.) Contributions:
— Single, $500; or if Healthy U requirements are met, $800.
— Single plus one, $750; or if Healthy U requirements are met, $1,200.
— Family, $1,000; or if Healthy U requirements are met, $1,600.
• IRS employee contribution limits will increase — single, $3,500; single plus one and family, $7,000.
"It's important that all eligible employees complete open enrollment this year because flexible spending, dependent care and Health Savings Account information won't automatically roll over to 2019," said Kate Johnson, manager for benefits. "Employees who do not complete open enrollment will not be able to receive Health Savings Account contributions from the University."
Also, dependents ages 19 to 26 will be removed if open enrollment isn't completed; employees must verify child dependent status in the open enrollment tool, and all documentation must be provided by Friday, Nov. 30, Johnson said. Additionally, the spousal coverage affidavit must be completed every year for most plans.
Before making benefit selections, eligible employees are encouraged to take time to review all plan details available at utoledo.edu/depts/hr/benefits/open-enrollment. Also, employees may want to review details for the Health Savings Account, which uses pre-tax dollars to cover many health-related expenses to help employees save money.
Two Employee Benefit Fairs will be held to review general plan details and answer specific employee questions:
• Wednesday, Oct. 3, 11 a.m. to 4 p.m., Morse Center Basketball Courts on Health Science Campus; and
• Thursday, Oct. 4, 9 a.m. to 2 p.m., Student Recreation Center Auxiliary Gym on Main Campus.
Beginning Oct. 1, employees may complete open enrollment by logging in to their account on the myUT portal. Under Benefits Information on the left, select 2019 Open Enrollment to start the process.
Employees with questions or needing help with completing their open enrollment may contact benefits@utoledo.edu or 419.530.1470.