Food writer alumna profiled in Ohio Magazine
---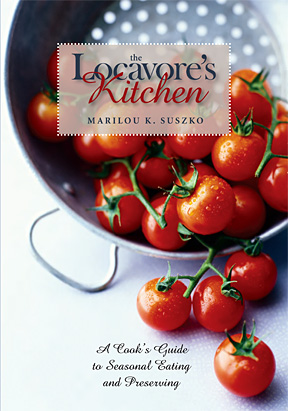 Readers of Ohio Magazine already may noticed a tasty profile of UT alumna and longtime food writer and teacher Marilou Suszko in its October issue, in which her newest book, The Locavore's Kitchen, figured prominently. Even given the irresistibility quotient of the recipes within — Three Onion and Cider Soup, Herb-Rubbed Flank Steak and Chocolate Red Wine Layer Cake among them — one question will have to be answered first.
What the heck is a locavore?
Suszko, who took her UT communications degree in 1978 and now lives in Vermilion, Ohio, had some initial concerns that the publisher-chosen title could be mystifying. After all, as someone whose writing has appeared in newspapers and magazines that include The Plain Dealer, Catholic Chronicle, Cleveland Magazine and Our Ohio, she values clarity in phrasing as much as in chicken stock.
To be fair, a big hint comes in the book's subtitle: A Cook's Guide to Seasonal Eating and Preserving. And locavorism — relying as much as possible on local growers for your fresh foods — is fast becoming mainstream, admitted Suszko, who pointed to the popularity of farmers markets in cities across the country.
"This is the way people ate for many, many years," she said. "Today the trend is appealing to the people who still remember when strawberries were a springtime-only treat. They tasted like real strawberries, they were available for a short time, then they were gone until next year." (Page 25: Roasted Strawberries With Cornmeal Pound Cake.)
Younger generations also are discovering the pleasures of locavorism, she added. "Food is hot right now. [Page 159: Making Your Own Dried Chile Peppers.] Young people are interested in good food, and eating locally is about the easiest way to find it.
"In a way, locavores are the new food snobs, but we're not exclusionary. I want as many people as possible to discover the advantages of eating locally," said the well-known food advocate.
Suszko's latest book also demystifies canning, freezing, drying and other methods of preservation. The 200 recipes all have been tested and adapted to be easy as well as yummy. With memberships in Les Dames d'Escoffier and the Ohio Ecological Food and Farm Association, Suszko is a culinary teacher who knows the importance of making "best food practices" accessible.
"Eating is an intimate act done three times a day," she said. "Why not make it as enjoyable, flavorsome and healthy as possible?"
The Locavore's Kitchen is online at ohioswallow.com/book/The+Locavore%E2%80%99s+Kitchen. Suszko maintains a website at www.mariloususzko.com.