Hebrew Bible to be discussed Oct. 9
---
The University of Toledo Center for Religious Understanding will host a lecture titled "Is the Hebrew Bible a Jewish Book?" Monday, Oct. 9, from 7 to 8:30 p.m. in the Center for Performing Arts Recital Hall.
The lecture will be given by Dr. Yonatan S. Miller, who is in his second year as the Markowicz Visiting Assistant Professor of Judaism and Jewish Biblical Studies, and director of the Center for Religious Understanding.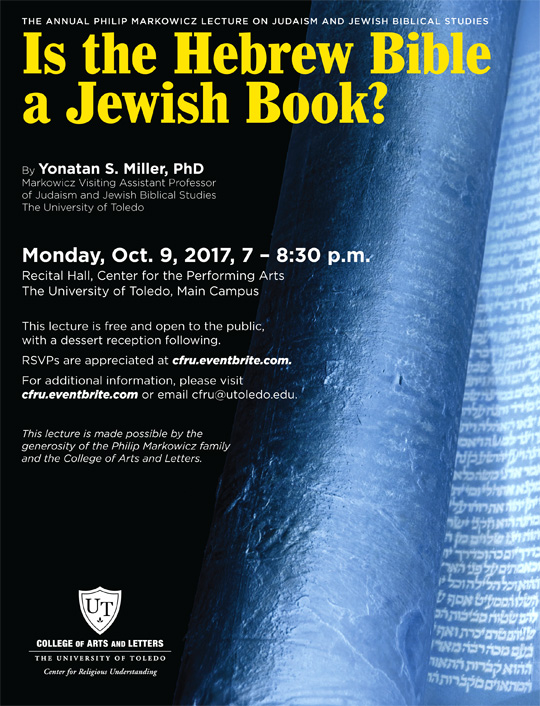 He earned his PhD in Jewish studies from Harvard University in 2015, after which he held a postdoctoral appointment as a Harry Starr Fellow in Judaica at Harvard's Center for Jewish Studies.
Miller's research examines the interpretive reception of the Hebrew Bible among ancient Jewish writers, with particular focus on the continuities, adaptations and appropriations of biblical motifs in classical Jewish literature, from the Dead Sea Scrolls through the Babylonian Talmud.
"Despite its being well over two millennia old, the Hebrew Bible's continued importance is undeniable," Miller said. "It is regularly invoked in contemporary political and cultural contexts and, of course, it is part of the canon venerated by nearly one-third of the world's population. To understand the people, processes and historical frameworks that led to its formation of this text is consequently essential to being an informed member of society today."
The Philip Markowicz Lecture in Judaism and Jewish Biblical Studies is an annual event for the University and the Toledo community. The lecture is sponsored by Philip's children, Dr. Allen Markowicz and Sylvia Neil, in honor of his continuing passion for the academic study of the Hebrew Bible, which continues with vigor, even into his ninth decade of life. 
RSVPs for the free, public lecture are appreciated at cfru.eventbrite.com.
For more information, visit cfru.eventbrite.com or email cfru@utoledo.edu.