Alumna to sign new book Oct. 10
---
Julie K. Rubini, a 2013 alumna of the College of Adult and Lifelong Learning, will sign copies of her new book, Missing Millie Benson: The Secret Case of the Nancy Drew Ghostwriter and Journalist, Saturday, Oct. 10.
The event will be held from noon to 2 p.m. at the Barnes & Noble University Bookstore in the Gateway Plaza.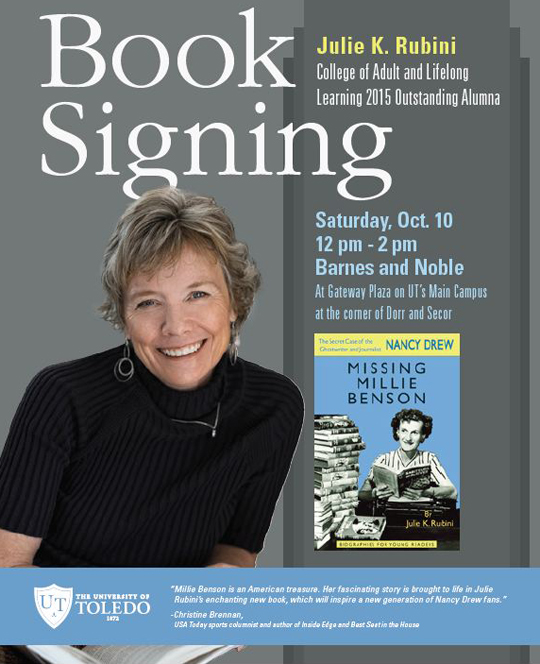 "I admired [Benson] for not only her role as author of 23 of the first 30 books in the Nancy Drew series, but as the author of 135 children's books, as well as being a journalist and adventurer," Rubini said.
Along with being a journalist for The Toledo Times and The Blade, Benson pursued an interest in aviation by obtaining a pilot's license.
"She was truly a woman before her time, and I discovered so much about her through my research," Rubini said. "I can't wait to share her life journey with readers."
Rubini was commissioned to write Hidden Ohio, a children's book on the history of the state, which was published in 2009.
Before her books were published, she served as the director of sales and marketing for the Toledo Convention and Visitors Bureau and the Seagate Convention Center.
Throughout the years, she freelanced for local and regional publications.
In 2012, Rubini accepted the appointment to Maumee's City Council and won re-election in 2013. Currently, she serves as chair of the Public Information and the Parks and Recreation committees.
Rubini will be honored as the 2015 College of Adult and Lifelong Learning Outstanding Alumna at the Homecoming Alumni Gala and Awards Ceremony Friday, Oct. 9.
For more information, go to julierubini.com.