Startup companies invited to compete in business pitch competition
---
Northwest Ohio's largest entrepreneurial business pitch competition, Pitch & Pour, is seeking startup companies to compete for more than $10,000 in cash and services and the opportunity to pitch their business ideas to some of the Toledo area's top entrepreneurial business investment groups.
Pitch & Pour 4.0 will take place Thursday, Nov. 12, from 5:30 to 8:30 p.m. in the Tom and Elizabeth Brady Engineering Innovation Center located on The University of Toledo Main Campus.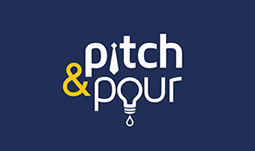 The deadline to apply to join the event is Monday, Oct. 12. Complete the online application at pitchandpour.com.
"We are still enlisting candidate companies and entrepreneurs to compete in the November event," said Molly Reams Thompson, director of LaunchPad Incubation at The University of Toledo. "We're looking for early stage technology based businesses, web businesses, enterprises demonstrating innovation, and business concepts with the potential to develop into successful companies here in northwest Ohio."
Last year's event attracted tech businesses, investors, mentors, angel investors and area businesses who listened to five budding companies make their business pitches to the audience and a team of judges made up of regional entrepreneurs and business leaders.
This year's event will include a new partner, Toledo Web Professionals, and will be a celebration of innovation as part of World Usability Day on Nov. 12.
"We are offering over $10,000 in cash, startup business prizes, professional services, and mentoring for three winning business teams," Thompson said. "The real prize, though, is the visibility your business or business concept gets by being in front of so many influential people who know how to spot successful ventures. It's an opportunity to mix with Toledo's tech business leaders and investors and make valuable contacts to help your business grow."
Another benefit to Pitch & Pour competitors is the opportunity to be invited to join the LaunchPad Incubation Program at The University of Toledo. LaunchPad Incubation clients receive hands-on business model development, mentoring, discounted business services, financial and investor assistance, and the benefit of being located in a dynamic and innovative business environment with other enthusiastic companies working to grow their businesses.
Pitch & Pour is a competition like "Shark Tank." Teams have five minutes and five slides to pitch their business concepts. Any early stage startup can apply, and selected teams will be able to pitch their submitted ideas for a chance to win cash and prizes. A panel of five experts serve as judges to determine the winner(s).