Cancer research topic of Oct. 12 lecture
---
"History of Cancer Research: Why Patients Are Still Dying for a Cure" will be discussed Thursday, Oct. 12, at 5 p.m. in Health Education Building Room 110 on UT's Health Science Campus.
Dr. Azra Raza, Chan Soon-Shiong Professor of Medicine and director of the Myelodysplastic Center at Columbia University Medical Center in New York, will deliver the ninth annual S. Amjad Hussain Lecture in the History of Medicine and Surgery.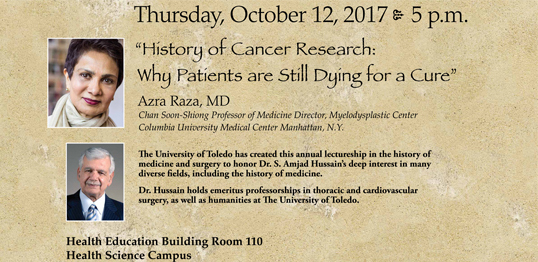 Her research focuses on myelodysplastic syndrome and acute myeloid leukemia. In 1984, she started a tissue repository that now contains 60,000 samples from thousands of patients.
"This repository has helped my colleagues and me define the molecular and genetic milestones that must be covered for pre-leukemia cells to cross over into leukemia cells," Raza said during a 2016 TEDx talk in New York. "It will also help us define potential therapeutic targets that could be used to intercept the disease before it is too late. This work will likely apply to the evolution of other cancers as well."
She was part of President Barack Obama's the Cancer Moonshot Program.
"Cancer is slated to become the leading cause of death in the coming decade, with one in two men and one in three women suffering from the disease at some point in their lives," she said during the Tedx talk. "Over the next 10 years, the number of new cancer cases in the United States will increase by 42 percent, and the number of cancer survivors will rise from 15.5 million to 20.3 million. During the same period, the number of oncologists will increase by only 28 percent."
Raza's research has appeared in The New England Journal of Medicine, Nature, Blood, Cancer, Leukemia, and Cancer Research.
In 2012, she was a Hope Funds for Cancer Research honoree. Two years later, Raza received the Distinguished Services in Field Research and Clinical Medicine Award from Dow Medical College.
This annual lecture was created in honor of Hussain, professor emeritus of thoracic and cardiovascular surgery, and humanities, and columnist for The Blade. The free, public event is designed to highlight Hussain's interest in many diverse fields, including the history of medicine.