UTPD recruiting candidates for officer, dispatcher positions
---
The University of Toledo Police Department is looking to add new law enforcement officers and a police dispatcher to its force.
"We are looking to hire individuals with strong character, judgment and commitment to safety to fill vacancies resulting from upcoming retirements," UT Police Chief Jeff Newton said. "University policing is a dynamic career, and we're looking forward to finding the right individuals for these opportunities."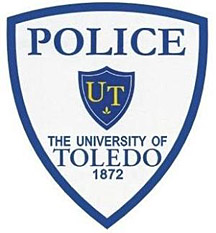 Officer candidates must be at least 21 years old with a valid driver's license and pass physical fitness, psychological, drug and polygraph exams, as well as written and oral testing and a thorough background investigation to be considered for the position.
Applicants also need to have completed 96 quarter hours or 64 semester hours of college credits, or have at least two years of continuous active full-time law enforcement experience.
For many years, candidates for UT officer positions were required to already have an Ohio Peace Officer Training Academy certificate. That is no longer a pre-hire requirement in an effort to open the door for those who have not yet begun a career as a police officer, Newton said. UT will sponsor the employee in completing the training to become a certified peace officer.
Interested candidates are asked to submit an electronic application by 5 p.m. Monday, Oct. 16. A written police exam and physical fitness tests will be held Saturday, Nov. 4.
Candidates for the police dispatcher position must be at least 18 years old and have a high school diploma or GED. Additional requirements are four months of training or radio dispatcher experience in law enforcement, and 20 hours of training in the operations of communication equipment. Candidates also will be required to compete rigorous field training.
Interested candidates for the dispatcher position need to apply by 5 p.m. Friday, Oct. 20.
Applications are available at jobs.utoledo.edu.