Glacity Theatre Collective: 'Nightmares Come in Threes'
---
For its third annual Halloween show, the Glacity Theatre Collective will horrify Toledo with three original 20-minute pieces in "Nightmares Come in Threes" Friday and Saturday, Oct. 23-24 and 30-31, at 8 p.m.
The plays were developed from nightmares written in the dream journals of UT alumna Megan Aherne and Dr. Edmund B. Lingan, UT associate professor and chair of theatre and film.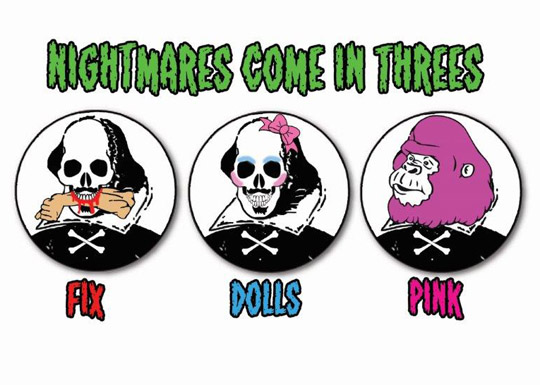 The three pieces — "Fix," "Dolls" and "Pink" — will run like a haunted house attraction, with the audience visiting separate spaces one after another in the gallery at Handmade Toledo, 1717 Adams St.
There is voluntary low-level audience interaction, according to Lingan.
"In some cases, actors will simply move through the audience space, or an audience member may be asked to join the actors onstage," he said. "However, actors will not lay hands on any audience member at any time."
"Fix" and "Dolls" are both written and directed by Aherne.
"Fix" is a moment in the life of a bottom-level pusher of an alternative, man-made drug. "It's a bloody, campy, wild ride of a show," she said.
"Dolls" is a dark and surreal introspection of a deranged man obsessed with baby dolls. "If he fancies you, he may invite you over for a tea party," Aherne said.
"Pink," directed by Lingan, is a demonically comic experience set to music and song. It takes place in an evangelical church of ungodly evil.
"The demon these weirdos worship is unnamed, but from the moment dark events begin to unfold, their unholy lord's identity is readily apparent," Lingan said.
"Pink" is based on a text by Lingan, but the final product was a collaborative piece created by the Glacity Theatre Collective's Junk Box Theatre Initiative, which is focused on devising new works for the company.
The cast for "Fix" is Sean Koogan, Pasha Carter, Gina Gass, Kitty Hawwk and Mitchell Lengerich. Jeffrey Burden is the sole cast member for "Dolls." For "Pink," performers are Victoria Zajac, Lindsey Miller, Andres Medina, William Toth, John Toth and Danielle Hale.
Kelly McBane designed the costumes, and Zajac designed the makeup for "Pink."
Doors of the Handmade Toledo building will open 30 minutes prior to curtain.
Due to vulgar language, violent content and partial nudity, audience members must be 18 and older, or an adult must accompany younger audience members.
Tickets are $15 at the door.
Those planning to attend the show Saturday, Oct. 24, should note that Adams Street will close at 3 p.m. for the Zombie Crawl, and entrance to the venue will require the purchase of a $5 wristband. Tickets must be purchased at the door that evening — show the wristband and receive $5 off the ticket price.
Go to http://glacity.org for more information.