Men's basketball team No. 23 in CollegeInsider.com Mid-Major preseason poll
---
The Toledo men's basketball program is ranked No. 23 in the CollegeInsider.com Mid-Major Top-25 preseason poll.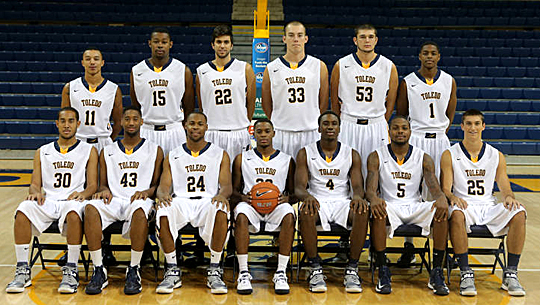 The Rockets received 166 points and are one of four Mid-American Conference schools to receive votes with Akron ranked No. 10 and Ohio and Kent State receiving votes.
In addition to the Rockets' three MAC opponents, five non-conference opponents appeared in the preseason poll: Stony Brook (101 votes), Cleveland State (75 votes), Robert Morris (67 votes), Detroit (20 votes) and Arkansas State (eight votes).
UT returns four starters from last year's 15-13 squad that tied Western Michigan for first place in the MAC West Division. A pair of all-conference guards, senior Rian Pearson (17.9 points per game, 6.8 rebounds per game) and junior Julius Brown (13.1 points per game, 6.0 assists per game), are back to team with 2012-13 All-MAC Freshman Team center Nathan Boothe (8.3 points per game, 5.2 rebounds per game), senior forward Matt Smith (9.8 points per game, 3.6 rebounds per game) and sophomore guard Josh Lemons.
The Rockets also are gaining the services of a pair of junior transfers, guard Justin Drummond and forward J.D. Weatherspoon, as well as red-shirt freshman forward Aubrey Williams and the freshman trio of center Zach Garber, guard Jordan Lauf and guard Jonathan Williams.
Toledo will open its season Saturday, Nov. 9, with a home game against Northwestern Ohio before venturing to the East Coast for a contest at Atlantic Coast Conference foe Boston College Thursday, Nov. 14.