Biblical violence topic of UT Center for Religious Understanding lecture
---
The University of Toledo Center for Religious Understanding will host a lecture titled "Unnecessary Roughness: American Perspectives on Biblical Violence" Wednesday, Oct. 26, from 7 to 8:30 p.m. in Libbey Hall.
The lecture will be given by Dr. Yonatan S. Miller, the Markowicz Visiting Assistant Professor of Judaism and Jewish Biblical Studies and director of the UT Center for Religious Understanding.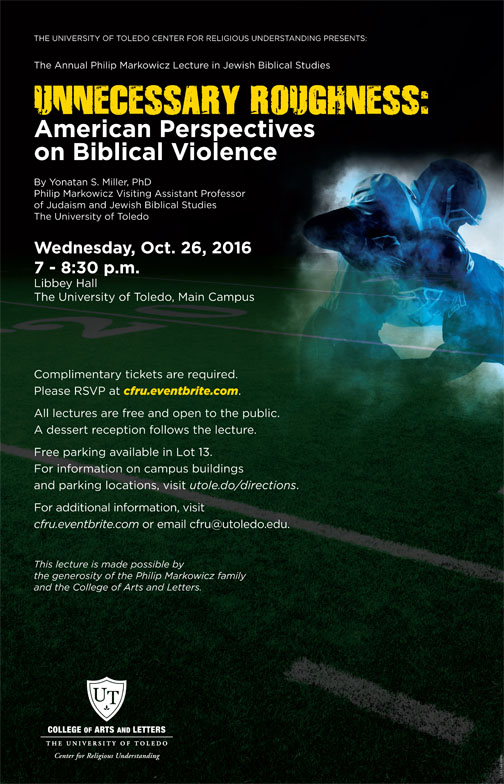 He received his doctoral and master's degrees in Jewish studies from Harvard University's Department of Near Eastern Languages and Civilizations. After completing his PhD in 2015, he held a postdoctoral appointment as a Harry Starr Fellow in Judaica at Harvard's Center for Jewish Studies.
His research examines the interpretive reception of the Hebrew Bible among ancient Jewish writers, with particular focus on the continuities, adaptations and appropriations of biblical motifs in Jewish literature, from the Dead Sea Scrolls through the Babylonian Talmud.
"The lecture is an outgrowth of my doctoral research. I employ football and other illustrative analogies from contemporary American society to better make sense of — although not to justify — what might seem like senseless acts of biblical violence," Miller said.
"While I can say with a relative degree of confidence that these violent narratives are literary fictions, my purpose is not to justify them, but to understand why they were created, where they came from, and how they functioned over time," Miller said. "By shedding light on these developments, my hope is that we can better grapple with some otherwise disturbing biblical stories and gain a better understanding of a foundational religious text."
The Philip Markowicz Lecture in Judaism and Jewish Biblical Studies is an event for both the University and the wider lay community from greater Toledo. The lecture is sponsored by Markowicz's children, Dr. Allen Markowicz and Sylvia Neal, in honor of their father's continuing passion for the academic study of the Hebrew Bible, which continues with vigor, even now into his ninth decade of life. 
Complimentary tickets are required for the free, public event; RSVP at cfru.eventbrite.com.
Free parking is available in Lot 13. For more information on campus building and parking locations, visit utol.do/directions.
For additional information, email cfru@utoledo.edu.