Toledo looks to defend MAC regular-season title in 2013-14
---
The Toledo women's basketball team will take on a new look in 2013-14.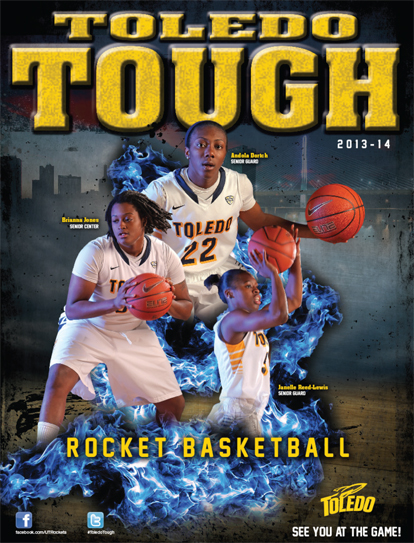 Gone are five members of the winningest senior class in school history who helped the Rockets secure an impressive 107 victories, capturing a WNIT Championship (2011), two Mid-American Conference regular-season titles (2010-11, 2012-13) and four-consecutive division crowns (2009-13), as well as advancing to the postseason each of the last four seasons.
UT also lost three additional players who transferred out of the program. Despite the turnover, the Rockets' expectations remain high for the upcoming season.
"It would be an understatement to say we will miss last year's senior class," said sixth-year Head Coach Tricia Cullop, who ranks first in MAC history in conference win percentage (.813, 65-15) and second in overall win percentage (.740, 125-44). "I believe we have the talent to be a very dangerous team, though, but only time will tell how fast we jell."
Toledo's new-look roster in 2013-14 will feature seven returning letterwinners, including two all-conference performers and six newcomers. As far as numbers on the hardwood go, the Rockets welcome back 47.3 percent of their scoring, 44.1 percent of their rebounding, 49.3 percent of their assists and 59.3 percent of their steals.
"Our goal is to quickly mesh the incoming players with the veterans and get better every day," Cullop said. "We graduated the winningest class in school history, but we still return a pair of all-league players, Andola [Dortch] and Inma [Zanoguera]. When conference play starts, we want our team clicking on all cylinders ready to challenge for a MAC regular-season championship and postseason berth."
The Rockets compiled a stellar 29-4 record in 2012-13, the best single-season mark in school annals. UT also captured its second MAC regular-season crown in the last three seasons with a 15-1 league ledger. Toledo is one of just 14 programs in the country to win at least 24 games each of the last four seasons.
UT also made its fourth consecutive appearance and ninth overall in the WNIT in 2013. The Midnight Blue and Gold advanced to the Sweet 16 of the postseason tourney for a third-straight year with home victories against Atlantic 10 member Butler and Horizon League foe Youngstown State. Their season came to an end with a setback to Big Ten member Illinois.
"I'm very proud of the accomplishments of last year's team," said Cullop, whose squad's 29 wins tied for the most in school history and second most in the MAC record books. "In the future, we will continue to strive for the one goal that has eluded us. I want more than anything for our players to experience the thrill and excitement of an NCAA Tournament berth."
As Cullop examines the breakdown of her new-look squad, she expects the veterans to play a critical part in their development, spearheaded by Dortch and Zanoguera.
"Andola and Inma have logged the most minutes of any returnee, so they will be the obvious choices in terms of leadership, but I also see [junior] Stephanie Recker and [sophomore] Ana Capotosto stepping into more of a leadership role as well," Cullop said. "Having players who have been there before always pays dividends. Our veterans understand the preparation and teamwork that go into winning a conference title and advancing in the WNIT, and our younger players chose Toledo because they want that expectation."