New sculpture flows on Main Campus
---
Judith Greavu pays tribute to the Ottawa River with her sculpture titled "Current Forces."
The work consists of three cast bronze sections mounted on six brass tubes; it weighs more than 1,000 pounds and is 15 feet long, 5 feet wide and 10 feet tall.
It recently was installed on the south side of Bowman-Oddy Laboratories and Wolfe Hall.
"The piece evokes the course of the Ottawa River as it flows through two counties and shows the shape and form and depth of the river," said Dr. Steven LeBlanc, executive associate dean for academic affairs and professor in the College of Engineering, who is chair of the Campus Environs and Beautification Committee. "The piece complements the educational and research interests of several of the academic departments that occupy the Bowman-Oddy complex."
Greavu said, "The surface of the water gives only hints of the life forms that inhabit a stream. The large lower surfaces of the 'water' — the cast bronze sections — in the sculpture allow for imagery and textural development that show some of those life forms."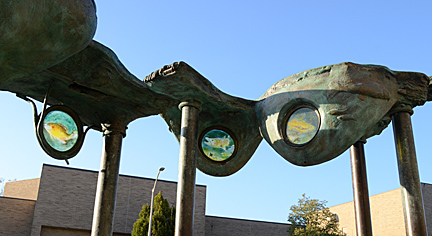 Indeed, close inspection of the dry verdigris patina discovers a turtle, deer and raccoon tracks, mussels and fish.
And five fused glass circles feature fish and crayfish in the artwork. When the sun strikes these spots, it's reminiscent of light on the river.
"The glass medium enhances the watery expression of the sculpture," Greavu said.
The river image also could be seen as a visual metaphor for the diverse and dynamic science disciplines housed in Bowman-Oddy Laboratories and Wolfe Hall.
"I hope viewers see beyond the 'story' of the river and the life forms and the symbolism to recognize the purely formal visual forces of the piece," Greavu said.
She was selected from approximately 20 artists from across Ohio who submitted proposals, according to LeBlanc. The artist is known for her work that is fluid and symbolic of nature. Greavu was an associate professor of art at Ohio Northern University from 1985 until her retirement in 2005.
Funding for "Current Forces" came from the Ohio Percent for Art Program related to the renovation of Bowman-Oddy Laboratories and Wolfe Hall.