Toledo set to court success in 2017-18 season
---
Expectations are high: UT is coming off a memorable 2016-17 campaign that saw the Midnight Blue and Gold capture its eighth Mid-American Conference title in program history and advance to the NCAA Championships for the first time since 2001.
The Rockets finished the year with a 25-9 overall ledger and a 12-6 mark in the league. They tallied at least 20 wins for the fifth time in Head Women's Basketball Coach Tricia Cullop's tenure, and their 25 victories tied for fifth most in school history.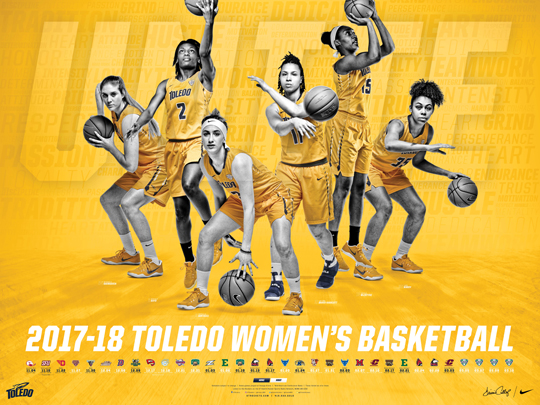 "Our players now understand what it takes to get to the NCAA Championships, and they are extremely motivated to get back," Cullop said. "We would like to be the first team in a decade to repeat as MAC Tournament champions."
Toledo also led the MAC in attendance for an unprecedented 27th consecutive season in 2016-17 and ranked No. 27 in the NCAA, averaging a league-high 3,744 fans per home game. UT has ranked in the top 30 nationally in home attendance each of the last six seasons.
"We're excited to be on the court and get things started," said Cullop, who is in her 10th year as head coach and ranks fourth in league history in overall winning percentage (202-96, .678) and seventh in conference winning percentage (108-44, .711).
Toledo's roster in 2017-18 consists of three seniors, five juniors, three sophomores and four freshmen. As far as numbers go, the Rockets welcome back 77.4 percent of their scoring, 76.9 percent of their rebounding, 86.9 percent of their assists and 77.5 percent of their steals.
Providing experience and leadership for the Rockets will be two-time All-MAC honoree senior Jay-Ann Bravo-Harriott (11.5 points per game, 4.2 rebounds per game, 2.2 assists per game), 2016-17 third-team All-MAC selection junior Mikaela Boyd (12.2 points per game, 7.9 rebounds per game, 4.0 assists per game, 2.0 steals per game), junior Kaayla McIntyre (10.0 points per game, 5.0 rebounds per game, 1.2 blocks per game) and 2016-17 MAC All-Freshman recipient Mariella Santucci (7.7 points per game, 3.1 rebounds per game, 4.6 assists per game).
Toledo's four returning starters have logged extensive minutes and played key roles for the Rockets, and their leadership will be crucial if UT wants to successfully defend its conference championship.
"I need these four players, as well as the other returning players, to set a good example for the younger players and be vocal," Cullop said.
The Rockets' lone home exhibition game is scheduled for Saturday, Nov. 4, against NCAA Division II member Lock Haven. Tipoff will be at noon in Savage Arena.
Less than one week later, Toledo will open the regular season at home against Saint Francis (Pa.) in the first round of the Preseason Women's National Invitation Tournament (WNIT) Friday, Nov. 10, at 7 p.m.
"It's certainly an honor to play in the Preseason WNIT," Cullop said. "It's a great way to create some buzz and enthusiasm for our program, as we will compete against some very good teams."
The Rockets, who will take part in the Preseason WNIT for the fourth time in program history, are one of eight teams in the field that qualified for post-season play in 2016-17. The Preseason WNIT will feature at least three games for all squads with all contests hosted by participating schools.
"All of the teams that will participate in the Preseason WNIT are there for a reason," said Cullop, whose team also took part in the Preseason WNIT during 1994-95, 1998-99 and most recently 2010-11. "We're very excited to be included in this event and even more excited to start the season at home." 
The winner of the UT-SFU contest will face either nationally ranked Louisville or Southeast Missouri in the second round at a site to be determined Nov. 12 or Nov. 14. 
Following the Preseason WNIT, Toledo will host 2017 NCAA Championship participant Dayton Nov. 22 before hitting the road for six of its final eight nonleague contests. That stretch of road games includes matchups at Iona Nov. 27, St. Bonaventure Dec. 4 and Duquesne Dec. 6. 
The two nonleague home games during this stretch are against Maine Nov. 30 and Cleveland State Dec. 9.
UT then will venture back to the road for a pair of neutral-court games against Northern Kentucky Dec. 17 and 2017 NCAA Championship participant Western Kentucky Dec. 18 at the West Palm Invitational before wrapping up nonconference action at Detroit Mercy Dec. 21.
The Rockets' 18 MAC contests will consist of 10 games against West Division opponents and eight versus East Division foes.
UT will play four of its first five league contests at the friendly confines of Savage Arena, but will finish with four of its final seven conference games away from home. The 2017 MAC Champions have been nearly unbeatable in the Glass City under Cullop, compiling a stout 112-32 (.778) ledger. They have been even more dominant against MAC opponents on their home court, winning 63 of 79 contests (.797). 
The Rockets will begin defense of their league crown Dec. 31 when they travel to 2017 Postseason WNIT participant Ohio. Toledo will play two games against the Bobcats and Buffalo from the East Division as part of its conference schedule, as well as the five other MAC West Division schools.
Toledo also will face the remaining MAC East Division teams once, with Akron Jan. 3 and 2017 MAC East Division champion Kent State Jan. 24 visiting campus, and the Rockets traveling to archrival Bowling Green Jan. 27 and Miami Feb. 7.
The MAC Tournament will begin with first-round games at campus sites March 5.
Students are admitted free to home games with UT ID; tickets are half-price for University employees and retirees.
For ticket information, stop by the UT Athletic Ticket Office in the Sullivan Athletic Complex at Savage Arena, go to utrockets.com or call 419.530.GOLD (4653).