Department of Foreign Languages to host free coffee break Nov. 8
---
Grab a coffee and meet with the faculty and staff in the Department of Foreign Languages and Literature Wednesday, Nov. 8, at 1 p.m. in the Memorial Field House Atrium.
This free event will include coffee sponsored by Sip Coffee and give students the chance to interact with faculty and staff and help them to foster connections on campus.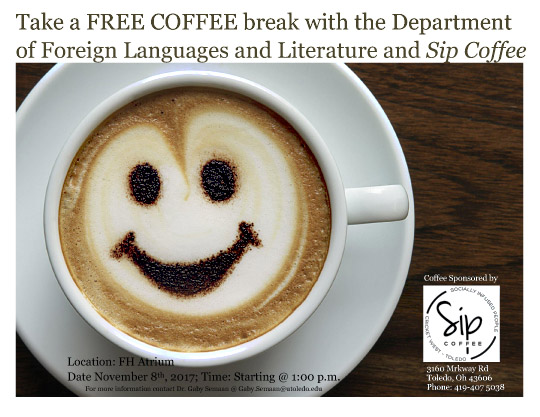 "We want to show our appreciation for students across the campus and for their hard work," said Dr. Gaby Semaan, director of Middle East Studies and assistant professor of Arabic. "In addition, as we approach the last few weeks of the semester, we hope fresh coffee will provide a warm, refreshing boost of energy to finish the semester strong."
Everyone on campus is invited to attend, and coffee will be served until it runs out.
"We hope that this will create an opportunity for more socializing and connection between students, faculty and staff of the University in a relaxed and friendly atmosphere," Semaan said.
For more information, contact gaby.semaan@utoledo.edu.