UT to honor veterans for service at annual celebration
---
Honor, courage and commitment are a few traits that come to mind when thinking of veterans — the men and women who proudly wore the cloth of our nation and answered the call to service.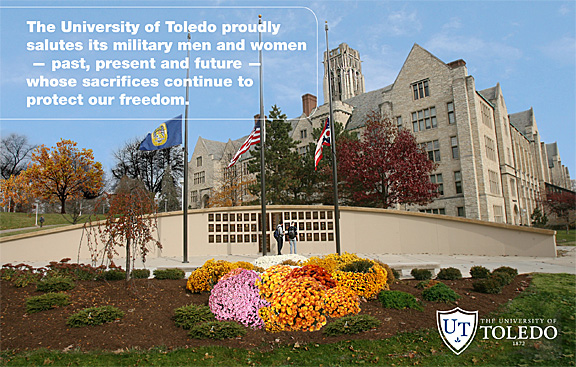 The eighth annual Veterans Appreciation Breakfast and Resource Fair Monday, Nov. 12, scheduled from 8 to 11:30 a.m. at The University of Toledo's Savage Arena and Veterans' Plaza is an opportunity for camaraderie, education and remembrance.
"This is my first semester here, and having UT host this event is great," said Tim Hagood, a Navy veteran of Afghanistan's Operation Enduring Freedom and a student in the master's program for industrial hygiene. "I hope it brings a greater awareness that there is a huge veteran presence on campus. Having been to Afghanistan for a year, it's a time to share fellowship and remember, and that is why I enjoy sharing the stories."
In partnership with the American Red Cross of Greater Toledo, Block Communications Inc., Lucas County Commissioners and the Lucas County Veterans Service Commission, The University of Toledo is hosting the event, which is free and open to all veterans and their families.
"The University of Toledo has created a site where remembering can take place and where the deeds of our service men and women can be celebrated and remembered," said Army veteran Vern Snyder, UT vice president for institutional advancement. "Most importantly, this location can serve as a reminder to generations of students of the price some have paid for the freedoms they enjoy."
Following breakfast, Lucas County Commissioner Tina Skeldon Wozniak, Toledo Mayor Mike Bell and State Rep. Teresa Fedor are scheduled to deliver brief remarks. Air Force Col. Steven S. Nordhaus, commander of the 180th Fighter Wing, Ohio Air National Guard, located at Toledo Express Airport, is scheduled to deliver the keynote address.
Transportation will be provided from Savage Arena to the Veterans' Plaza located on Main Campus starting at 10:30 a.m., with welcoming and keynote remarks from UT student and Army veteran Robert Roether and UT Army ROTC Battalion Commander Joshua Fletcher.
Marine Corps Master Sgt. Steven Kosinski is scheduled to lead the remembrance ceremony to include bagpipers, a joint services honor guard, Marine League rifle volley and taps.
Free parking is suggested in Areas 3, 5 and 6 near Savage Arena.