Social media app Happinin! wins Pitch & Pour business competition
---
In a close decision, a Baltimore app developer took home $2,500 in cash and $4,000 in business services for Happinin! at the UT LaunchPad Incubation's third Pitch & Pour business pitch competition.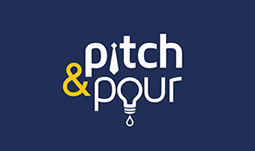 "Happinin! won because the judges felt they made the best case for being in a position to be successful now and grow in the long term," said Molly Reams Thompson, director of LaunchPad Incubation. "You could tell they had done their homework, were testing their app infrastructure, and were well along in customer experience trials in their Baltimore test market."
The interactive Happinin! app features the ability to both upload and view on-site video activity at local restaurants, clubs, bars and events. It will allow users to literally see what is "happinin" at specific sites at specific times to influence social activity decisions. Each nine-second video has a time and location stamp to provide a snapshot of activity at various venues.
A standing-room-only crowd of nearly 350 watched six startup teams fight for top honors at the third Pitch & Pour business competition, which was held last month in the Tom and Elizabeth Brady Innovation Center, located inside Nitschke Technology Commercialization Complex. Among those in attendance were UT Interim President Nagi Naganathan, UT Innovation Enterprises Interim CEO Rhonda Wingfield and Rocket Ventures CEO Bob Savage.
Second place went to Daily Fantasy Cricket, which won a $1,500 cash prize. The worldwide cricket fan base numbers more than 1 billion people, and after just 16 months online, Daily Fantasy Cricket has become the No. 1 fan site for cricket betting and fantasy sports. The company is looking for investment for more site development as well as adding boots-on-the-ground sign-up marketing of the service outside cricket stadiums — particularly in India, Australia, New Zealand and the United Kingdom.
UT graduate students Eric Olson and Tony Boyle made a strong showing representing the Doctor of Physical Therapy Program. Their business start-up concept, T & E Designs, will develop simulation joint models allowing physical therapy and medical students to actually "feel" various problems before practicing on patients. Formed two months ago, T & E Designs is seeking engineering assistance and basic business development help to get the concept off the ground.
More than the thrill of victory and cash prizes, all of the teams benefited from business exposure that is almost impossible to come by as a young start-up, Thompson said.
"We had investors, advisers, technology companies, entrepreneurs, college deans and many influential people here watching these teams present their ideas," she said. "I know each team made some serious contacts for further discussion. Connecting early stage tech companies like this with people and resources is part of the core mission here at LaunchPad Incubation. There is truly nothing like this event in northwest Ohio and this was our biggest and best one yet."
The LaunchPad Incubation Program at the University works to bolster innovation in northwest Ohio by providing access to capital, resources and expertise focused on early stage tech-based startup companies.