Student to share how Smartpen technology can enhance educational experience at Nov. 13 event
---
For some students, listening to the instructor while simultaneously taking notes in class can be a daunting task, but Audra Rec found a way to accomplish it using technology.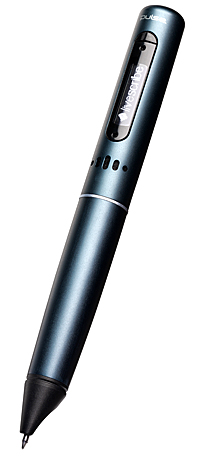 A Monroe, Mich., native and sophomore studying nursing at The University of Toledo, Rec uses a Livescribe Smartpen that her mother gave her when she graduated high school.
"I've been using the Livescribe Smartpen for more than three years," said Rec, who has a learning disability. "I don't know how I would pass school if I didn't have it, and I think it's an awesome tool that everyone should know about."
The pen does more than write — it can record and play audio and record handwriting, uploading that information to a computer. Newer versions of the pen allow transfer of notes and audio through Wi-Fi and Bluetooth to tablets and other devices.
Rec believes the technology could benefit other students and is sharing her experiences at a public event Wednesday, Nov. 13, at 5:30 p.m. in Rocket Hall Room 1530. She will explain the basic uses of the pen and how it has helped her in college.
"The most helpful thing to me is that I can pay attention in class and then go back and listen again and interpret what's being said," she noted.
Rec works in the UT Office of Academic Access, where she explains the pen's uses to other students. The office offers the pens for students to use and they also are for sale at the Barnes & Noble University Bookstore.
The Office of Academic Access also provides other services to students with disabilities: proctors for tests, note-takers for classes, adaptive software and more. Visit utoledo.edu/success/academicaccess.