Keyed up: UT piano gala to feature Steinways Nov. 15
---
The University of Toledo Department of Music will hold an all-Steinway concert performed by faculty, alumni, graduate students and guests Sunday, Nov. 15, at 3 p.m. in the Center for Performing Arts Recital Hall.
The program will feature compositions written for piano; these will include two-piano performances written for four-hand and eight-hand.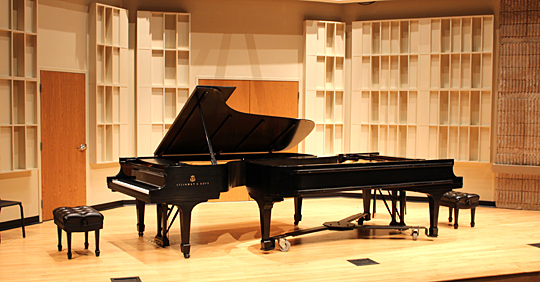 Performers will include Frances Renzi, UT professor emerita of music; Dr. Michael Boyd, UT professor of music; Christina Montri, UT instructor of music; and many others.
"The University of Toledo is well on its way to becoming an all-Steinway school, offering its students the finest pianos on which to practice and perform," Boyd said. "Ticket proceeds will support this effort."
The piano gala concert is a part of the Dorothy Mackenzie Price Piano Series, which also will feature Jóse López (Feb. 6-7) and Ryan Behan (April 2-3).
Tickets are $10. Student rush tickets will be available at the door five minutes prior to show time if seats remain. All seats are general admission.
To order advance tickets visit utoledo.tix.com or contact the Center for Performing Arts Box Office 419.530.ARTS (2787).