Make a difference for local families this holiday season
November 14, 2017 |
UToday
By Ashley Diel
---
With the holiday season approaching, UT will once again be participating in the Salvation Army holiday giving programs.
Student organizations, faculty, staff, colleges, departments and offices are encouraged to help and be involved by providing toys and meals for a local family in need.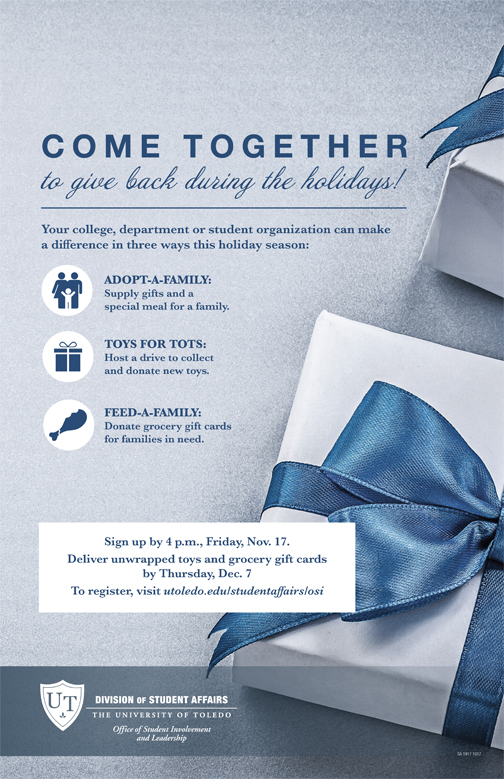 Participants have the opportunity to pick from three programs: Adopt-a-Family, Toys for Tots and Food for Families.
"This event is important, because without these donations, there are families in the Toledo area that will struggle this holiday or go without," said Alex Zernechel, program manager for Greek life. "Through our donations, we will put smiles on children's faces as they open their gifts and bring peace to parents that weren't sure how they would be able to make sure their children had the best holiday."
Those wishing to participate should register by Friday, Nov. 17, at 4 p.m.
Donated gifts and gift cards should be left unwrapped and delivered to the Office of Student Involvement and Leadership by Thursday. Dec. 7.
Last year, UT was able to adopt and help 60 families. This year, the goal is to help at least 100 families.
"Toledo supports our students and University in so many ways that this is one opportunity that the University community can give back to our Toledo families," Zernechel said. "A driving passion for UT has been the aspect of service and making the Toledo area better because of our active involvement in the community. Adopt-a-Family is one way that student organizations, faculty, staff, offices and departments can get involved in the process of giving back."
To register, click here or contact studentinvolvement@utoledo.edu for more information.