Students turn out lights in BlackoUT energy saving competition
November 15, 2013 |
UToday
By Kevin Bucher
---
Students are helping conserve energy by participating in the BlackoUT competition throughout November.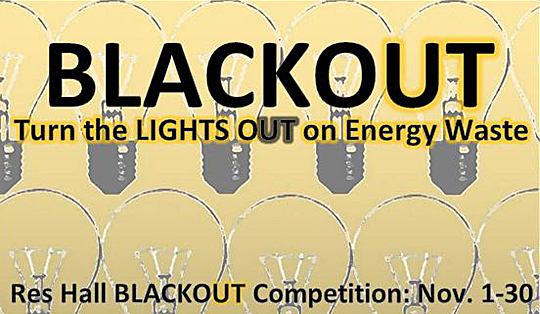 Residence halls are competing to see which one can reduce energy usage the most from November of last year.
The winning hall will receive a plaque that will hang in the building until the next energy competition in the spring.
"BlackoUT is a great way to bring attention to the massive amount of energy we consume globally and more specifically at UT," said Brooke Mason, interim sustainability specialist.
Students are conserving energy by turning off lights when leaving rooms, unplugging electronics when not in use, and switching to energy-saving light bulbs.
Mason also suggested washing only full loads of laundry and taking shorter showers, as well as adjusting thermostats before going to sleep or leaving for the day.
The competition is a partnership between the Sustainability Energy Efficiency and Design initiative, Facilities and Construction, and the Office of Residence Life.
For more information, click here or email brooke.mason@utoledo.edu or erin.baker2@utoledo.edu.