Residence halls to compete in campus-wide energy competition
November 17, 2015 |
UToday
By Cassandra DeYoung
---
Throughout November, students in The University of Toledo residence halls are competing against one another to see who can reduce the most electricity use in their building.
"Energy and sustainability are very important to UT," said Ashley Hartford, assistant director of residential marketing and communications in the Office of Residence Life. "It's committed to energy efficiency, and residence halls are a part of campus that can help make a difference."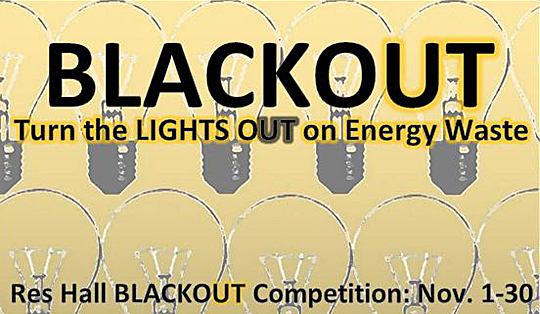 Each week residents will be notified of their buildings' efforts to demonstrate their overall impact and to encourage them in saving more energy.
Additionally, the Office of Residence Life has coordinated the following fun, educational programming for each residence hall:
• Thursday, Nov. 19 — "Greeks Go Green" at 5 p.m. in McComas Village. This outside field day program is designed to encourage reduction of electronic energy by increasing the use of physical energy.
• Thursday, No. 19 — "East vs. West Glowdown" at 7:30 p.m. Students in Ottawa House will play short games and wear glow sticks.
• Thursday, No. 19 — "Movie Madness" will be hosted on various floors throughout Parks Tower at 8 p.m. and will feature an array of movie themes, including Disney, action, horror and romance. Snacks will be provided at each movie location.
• Friday, Nov. 20 — "A Night at the Planetarium" will feature International House residents visiting Ritter Planetarium at 7:30 p.m. for a live interactive celestial program. To attend, residents must meet at the front desk at 7 p.m.
• Monday, Nov. 23 — "Unplug and Unwind" at 9 p.m. Students in MacKinnon, Scott and Tucker halls will visit the second-floor lounge in MacKinnon Hall to watch "The Lorax," play Xbox or study.
• Tuesday, Nov. 24 — "BlackOut Bowling" will feature residents of Presidents Hall bowling with glow-in-the dark pins in the multi-purpose room on the third floor. Additionally, a centralized movie night will feature various television shows and movies on multiple TVs.
During these activities, residents are encouraged to turn off lights and unnecessary electronics.
The competition is sponsored by the UT Sustainability, Energy Efficiency and Design Initiative and the Office of Residence Life.