Jefferson Award nominations due Nov. 19
November 18, 2013 |
UToday
By Staff
---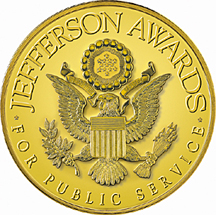 Do you know this month's Jefferson Award "Champion" honoree?
The November honoree could be a colleague who serves meals at a homeless shelter, gives "haircuts" at an animal shelter or coaches at a community center.
If you know an unsung hero who dedicates his or her time to community service, submit a nomination on UT's Facebook page, fb.com/utjeffersonawards, or directly to UT's Jefferson Awards page here.
Nominations for this month's honoree are due Tuesday, Nov. 19.
This month's Jefferson Awards "Champion" could be someone you know – nominate today!
Click to access the login or register cheese